Mathilde Riou is an urbanist, visual thinker, and collaboration facilitator for placemakers. Her beautiful drawings and visualisations help placemakers explain and understand their own work. But Mathilde does much more than that: Read more about her experience with placemaking, the potential of graphic facilitation, and the importance of peer-learning.
What does placemaking mean to you?
For me, it is about transforming a place together with the people who use it. This means involving them from the start, by building on their experience and ideas. And even though we talk about place-making, it doesn't have to be outdoor public spaces. It could be indoors as well, for example a company open space that is co-designed with the employees, or a common room in an apartment building for the residents.
When I talk about making the city with people, I mean involving not only the residents but other local stakeholders too (entrepreneurs, associations, institutions…) and also the urban professionals and decision makers who need to show up when the community is here, and hear what's being said. The placemaking journey should start as early as possible and continue throughout the urban project's life. At any stage, the community can be engaged: I don't see it as a one-time thing but as an ongoing process.
How can placemaking improve a city?
When I think about the positive impact of placemaking, I visualise two distinct aspects.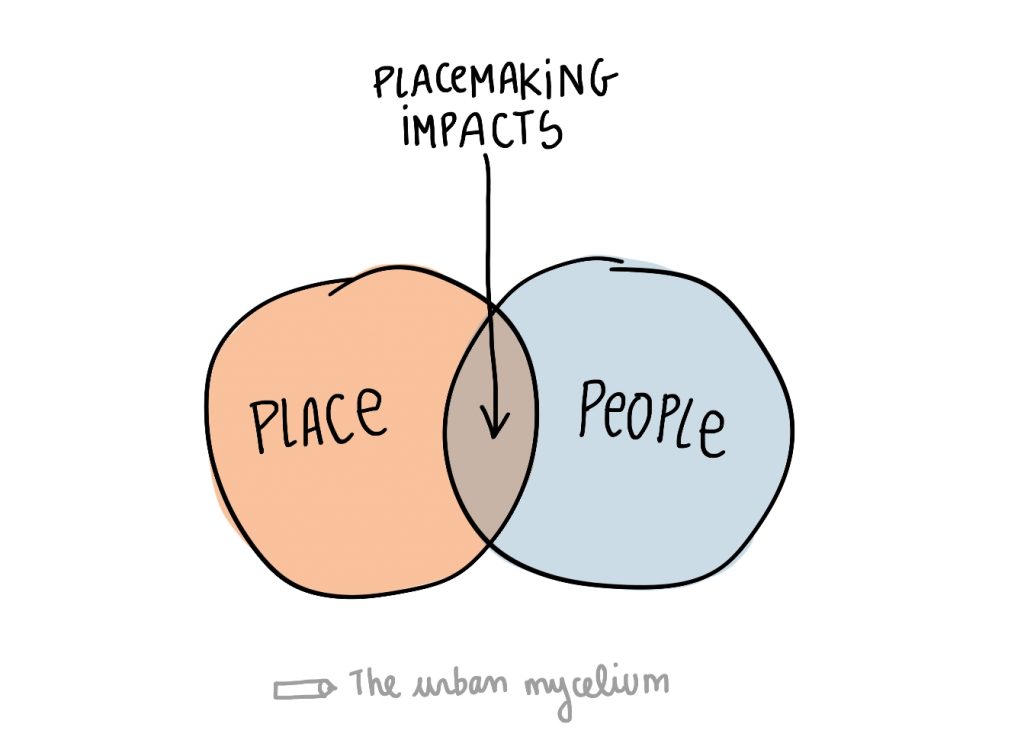 The first one is the soft skills that grow with such a process, for example building trust between the power holders and the community, creating a stronger sense of place attachment, and empowering people to shape the places they live in. Placemaking has an impact that goes beyond physical improvements to the place, it influences how people feel and their sense of community. It also promotes resilience. We have a dire future ahead of us, but if you know your neighbours and trust them, you feel more equipped to face the challenges that come your way. And placemaking processes have a positive impact on urban professionals and decision makers, too. Because it questions the way in which we plan cities, it requires to step out of your comfort zone and your everyday silos in order to find new solutions.
And then there is the place itself, which can be enhanced to better suit the needs of the inhabitants. By involving people from the start, you influence design choices and get physical improvements that will make the place more functional and enjoyable.
Do you know some powerful examples?
One example that comes to mind is La Marina de Valencia in Spain, which I visited in 2019. Between 2007 and 2010, the city hosted two editions of the America's Cup as well as the European Formula 1 Grand Prix. These temporary events heavily indebted the city and gave the locals a negative perception of the harbour, which was left abandoned, covered in asphalt and with empty hangars. Then, the city worked together with the community to revive the space and create a destination through a tactical urbanism approach, starting with low-cost programming and gradually transforming it. Public partnerships between the municipality, the region and the government also played a significant role in this transformation, it's very interesting.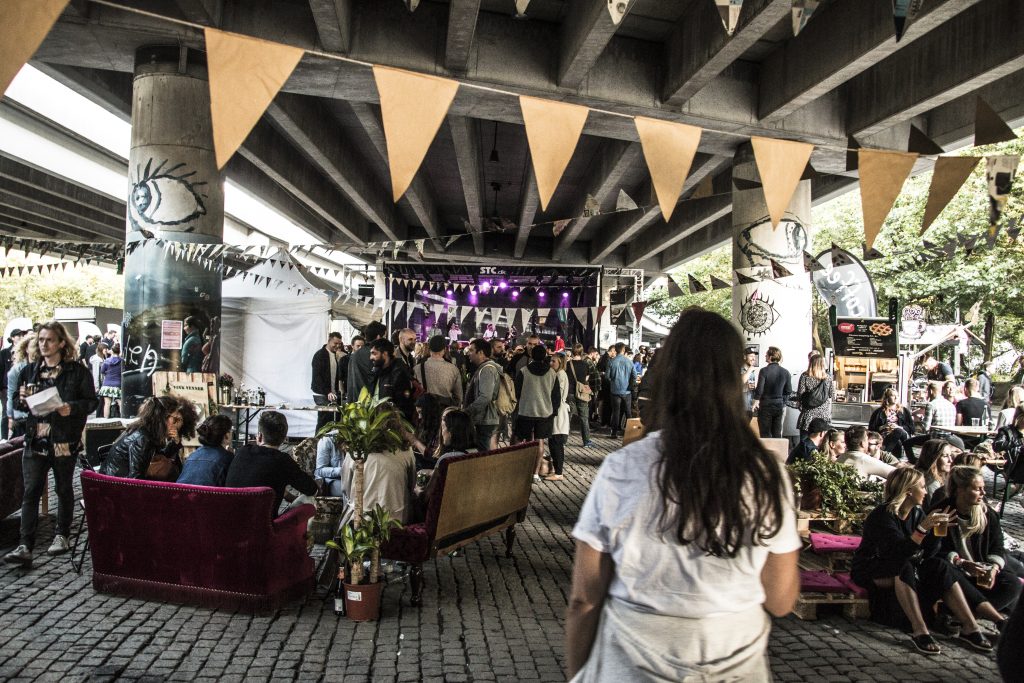 Another example of successful placemaking can be seen here in Copenhagen, with Urban13. In the city centre there is a large motorway bridge called "Bispeengbuen" that causes a lot of debate among locals and politicians alike. While waiting for a decision to be taken, the municipality has opened up the parking lot under the bridge for temporary use. Now it has become a place for the daily life, where you can find a coworking, a diner, a concert venue, art and repair workshops, a meeting room and 2 fields for street football and basket. This change didn't happen overnight: it started with a group of friends who organized a music event called Carpark Festival and saw the great potential of the space. They collaborated with the local community and other partners and started to experiment, with a lot of trial and errors. There was a lot of work with local girls, focusing on how to make this space more enticing and safer for them. And today, what was a 5-year temporary experimentation has been renewed until 2028.
Why do you think that placemakers sometimes struggle to present their work?
Our job is not well-understood because it is based on collaboration. It is often intangible, abstract, and takes place in conversations… making it less visible than for example changes in the physical environment.
And there is no specific terminology, either. It's not like we have university programs to become a "placemaker". People doing this type of job come from a wide range of disciplines, including design, urban planning, sociology, event organisation, political sciences… Some also do that as a hobby or as a form of activism. We typically sit at the intersection between many different fields, and I think it is a richness, but it also makes it challenging to communicate the full extent of our work, and the value of it.
How does graphic facilitation help?
For those who are not familiar with the term, graphic (or visual) facilitation is simply a way of conveying complex information or facilitating conversations in real time, using visuals and texts.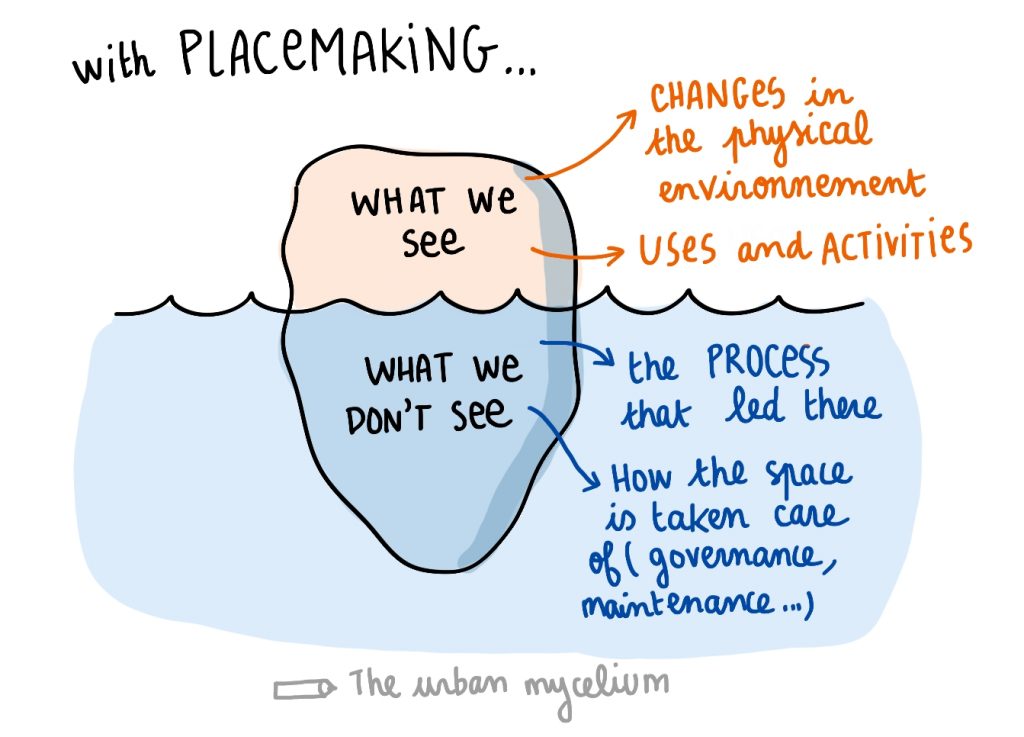 Using graphic or visual facilitation can make placemaking more visible. It's like an iceberg: everything that placemakers do is hidden from view, and we only celebrate what is visible in the city. With visual facilitation, placemaking practitioners can communicate the value of their work, document a project or make a placemaking process more engaging. It's a way to help different stakeholders understand each other and collaborate more efficiently, by creating a common language between all parties involved, including the local community.
Can you tell me more about your peer-learning approach to placemaking?
It is not all flowers and daisies to make the city with people. It takes a lot of energy to bring different stakeholders together and help them collaborate in order to design better places. It can also be daunting to always have to explain the nature of your work and its value. Placemaking is still quite small in the urban landscape, it has not become the norm yet. All of that can leave placemaking practitioners feel quite isolated and exhausted at times, but it doesn't have to be that way.
That's where peer-coaching can help. I facilitate a circle for placemakers and urban practitioners to connect and find solutions to their problems, overcome isolation, improve their practice, share knowledge, with professionals who speak the same "language". Participants meet once a month over the course of 6 to 8 months. Every time a person brings a specific challenge they're facing in their work, and the others share ideas and experience, following a structured 6-step process called "professional co-development", which I facilitate. Each session is 2 hours and every time I am amazed at the number of ideas and feedback that are shared in such a short amount of time.
Naturally, there are placemaking networks and events for peers to meet every once in a while. But there are few spaces where practitioners can delve deeper into the issues they face. My aim is to provide a safe space where people feel comfortable to share their challenges and emerge with practical steps to overcome them.
What is giving you hope for our cities? What are important trends in placemaking?
When I observe the recent growth and evolution of placemaking and participatory planning, it brings me hope because it is slowly changing the way we approach city making. Even when it is a legal requirement or a just way to check a box, I believe it has a significant impact on how urban practitioners approach their work. If we all collaborate more and learn to better communicate with each other (experts and non-experts alike!), there is hope for positive change in our society.
One of the trends in placemaking is inclusivity and aiming to engage with the ones whose voice is heard the least. Another trend is sustainability, trying to make places flexible and more future-proof. The use of technology is also trending in placemaking and I hope we can use it to reach people who are underrepresented. And of course, health and wellbeing are prioritized more and more in placemaking, especially since the pandemic when we realized the importance of public spaces for sports and recreation.
Actually, living in Copenhagen gives me great hope for the future of cities. I used to be quite pessimistic about urban life (I know, how ironic for an urban planner) and I dreamed of moving to the countryside. But living here has shown me that it's possible to have the best of both worlds. Nature is easily accessible, and the pace of life is not overwhelming. It is heartening to see many families with small children in the streets and feeling safe. I know this model cannot be replicable everywhere, but it does provide inspiration for creating more liveable cities.
What are your top recommendations for placemakers in terms of communication?
My first advice is to learn visual thinking. It is very simple, and you don't need to be good at drawing, you can start with building a simple visual vocabulary of hand-drawn icons. This will help you communicate what you do in a simpler way. It will also make communication easier with the other stakeholders of the urban project when you attend meetings for example. There are great books and resources online, as well as trainings.
Something else I encourage you to do is to showcase the entire placemaking process, not just the final "product". We often show transformations with before-and-after photos, for example how a car parking turned into a playground or a marketplace – but this reinforces the idea that only the end result matters. What about the steps in between? Show the whole journey! Share photos of the meetings, the trial and errors, the people, the behind the scenes: that's also part of the game and it will contribute to clarifying what placemaking is all about.
Thank you!
Mathilde is an expert for visual thinking in placemaking. You can find her website here and you can book her for advice on placemaking communication and engagement processes using visual tools. I also did a guest post for her blog, and our collaboration doesn't stop here: if you would like to work with both of us, a journalist and a graphic facilitator, you can book us as a team!