Despite the pandemic consuming news and thoughts, we must not forget the other big challenge of our time: climate change!
Today, I want to present a great participatory workshop. The "climate collage" was started by a French NGO and has now become a group event that you can attend online, although there is also an offline version with cards.
This fun activity delves deep into climate change causes, consequences and related topics. You employ skills like reasoning, creativity and discussion along the way in order to better understand the causes and consequences of climate change.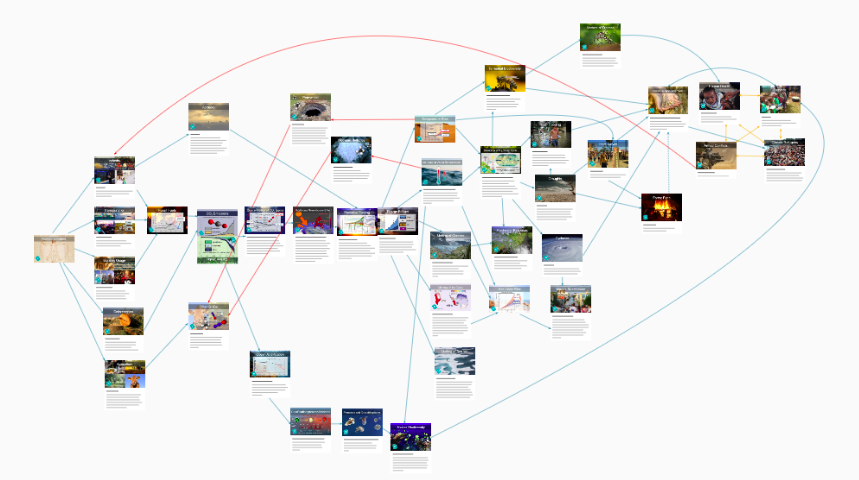 More than 100,000 persons from all over the world have already mastered the climate collage. Sophia Cheng of With Many Roots is a trained     facilitator for this participatory tool, as well as its UK coordinator. She supports the growing number of English-speaking professional facilitators by training them on giving the workshop. She spoke to me:
What makes the Climate Collage so special?
Let's face it, the science behind climate change is hard. And yet a lot of the campaign messaging assumes that we know it. Given all that will have to change to solve it, "rapid, far-reaching and unprecedented changes in all aspects of society", as the UN suggests, isn't it worth spending a few hours of our time to understand why?
But learning new stuff, especially science can seem daunting. Especially for those whom school brings back bad memories, being told off by teachers, red crosses or pressure from peers. It's also important to consider how we learn – can we fully absorb the complexity of the science by just listening to a lecture for example? Some people can but not everyone, we learn in different ways and so I believe climate change needs to be made accessible for different learning styles.
The Climate Collage takes the last really big science report form the UN and turns it into picture form, over 5 rounds we build up the complexity in small groups. At the end you have the big picture and importantly we connect our new knowledge to our feelings. What does it all mean for us and how can we forge facts and feelings into meaningful actions?
Who should play this game?
Everyone! Anyone with a curiosity about the future. Ok, maybe that's a bit grandiose. Here's my set of questions I ask people:
Do you work in and around climate change and sustainability but have gaps in your knowledge?
Do you need to get to grips with the science?
Would a greater understanding of the science help you talk about climate change with your customers/team/loved ones?
Has your organisation declared a climate emergency but is unclear about next steps?
Are you just starting out on raising your climate awareness and want to get the big picture?
Sustainability experts and climate scientists have joined my workshops and they all learnt something new, so whether you're new to it or consider yourself an old-timer, my hunch is you'll get value out of the exercise. We're going to be organising industry-specific sessions for networking and frank discussions about how climate change will impact different sectors.
I'm also trying to reach corporates and institutional decision makers because they can make a lot of impact quite quickly and also because they can pay a higher price point. This will allow us to run workshops at reduced rates and even free for grassroot groups.
In your experience, how is the participatory process with the climate collage?
In all the collages I run, it's important to create a safe space; where people can suggest ideas, get things wrong. And there's no test at the end! As a group people work together to lay out the cards in order of cause and effect and invite discussion each round. In all my collages we also introduce the concepts of inequality baked into the system that exacerbates climate change, and touch on historical contribution to the crisis and where the burden of responsibility lies. We explore our feelings, the good, the bad and the ugly before turning towards solutions and actions we can take nest, not only as consumers but as citizens, community members and employees.
The finished collage, the group's creation, is then a learning tool you can keep coming back to.
What long-term effects can participants hope for?
I've been running Climate Collages for nearly a year now and despite the pandemic have reached more than 160 people in 30+ countries, and the collage stays with you. Maybe not all the finite details but the interconnected nature of the science and how it all starts with humans and ends with humans.
In the words of Greta Thurnberg, "Once the climate crisis has got your attention, you can't look away. Once you fully understand the magnitude of the problem then you can't erase it." The Climate Collage can be the tool you need to understand it.
It can force many challenging questions, it's not easy but it can help clarify where to focus your efforts, what impactful actions you can take, and it will help you connect the dots in the media, in politics.
Does the method work all over the world?
Join a Climate Collage Workshop, they are taking place all over the world, although many of them virtual at the moment due to Covid-19 restrictions. They are now being offered in more and more languages. You can join as an individual or gather a group of colleagues, friends, community groups and learn together. It can give teams a powerful shared experience and tool to keep referring back to.
Climate Collage uses a train the trainer model, so once you have played the game you can train up as a facilitator yourself and reach more people. You can even deliver it professionally, like I am doing as part of my business. There are more than 5000 facilitators worldwide and a growing number of country coordinators to support the community.
This method means many workshops can run simultaneously and with a bit of organisation you can reach many people in one day!
The aim is to reach 1 million people! Will you be joining us?
With Many Roots run monthly community workshops you can register for here. If you have a group of people in mind, you can contact her directly at sophia@withmanyroots.com . For workshops in other languages or more information about the Climate Collage network, visit the website: http://climatecollage.org/
Thank you, Sophia!
I attended the workshop in late 2020 and it was hands-down the best online meeting I had had in a long time. Apart from learning a lot, I also got inspired in terms of creating participatory experiences in a video conference. This goes to show that participatory techniques don't have to hibernate during the pandemic. On the contrary, this is an opportunity to try out new ways of engaging your target group!
You might like this related article:
Lastly, I'd like to give you a book recommendation: "The Future We Choose" by Christiana Figueres and Tom Rivett-Carnac looks into possible utopias and dystopias in terms of climate. It very clearly lines out what needs to happen and what we as individuals can do to combat climate change. This is what Christiana Figueres, who was key for making the International Paris Agreement happen in December 2015, says about the climate change challenge:
"When you are faced with hard realities, look at them with clarity, but also know that you are incredibly lucky to be alive at a time when you can make a transformative difference to the future of all life on Earth.
You are not powerless. In fact, your every action is suffused with meaning, and you are part of the greatest chapter of human achievement in history."