Versión español abajo
What kind of work do you do at Ciudad Retoño?
Ciudad Retoño is an initiative of the Fundación Cauce Ciudadano, which in turn is a non-profit civil society organisation and gets its support from the Pernod Ricard México company. In 2014, the company decided to close the historic brandy plant Casa Pedro Democq, which had been the main employer of many people in the municipality of La Paz. From 1951 to 2016, the brandy plant was an important engine for urbanisation and economic development of the municipality.
When the plant closure was announced in 2016, citizens were worried. However, the Cauce Ciudadano foundation together with Pernod Ricard decided to keep on working together, creating community, employment opportunities, identity, innovation, responsibility, improved ethics, and commitment in the era.
Here is our formula for this virtuous circle: crisis = positive change = resilience
We emerged from this time as the Fundación Cauce Ciudadano A.C., based on the Ciudad Retoño initiative. We are working on the integrated development of our target groups through education, community-building, and work opportunities. General education, innovation and a social economy are our key values in this work.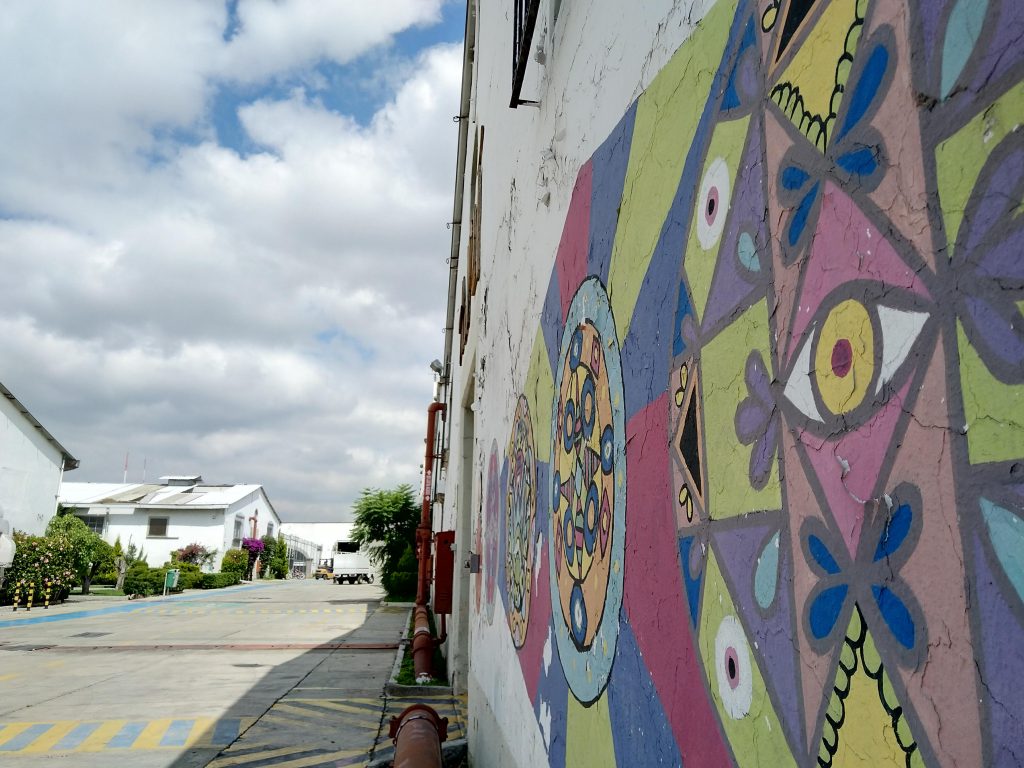 Could you tell me more about the Fab Lab?
The Fab Lab Ciudad Retoño has the goal of democratising the access to technology in the urban agglomerations in Mexico City's East, which is one of the most marginalised areas around the capital.
Fab Labs are an international movement which was born at the Massachusetts Institutes of Technology (MIT). The term is short for "Fabrication Laboratory". There are about 200 Fab Labs in more than 40 different countries, which serve as a "global networks of local laboratories that foster creativity be giving local access to digital fabrication tool, so that any person can produce any item". However, in many cases, the Fab Lab access has been limited and gentrified. In Mexico, there are about 40 such laboratories, which are difficult to access for many parts of the general population since they are in private universities, highly specialised and/or expensive.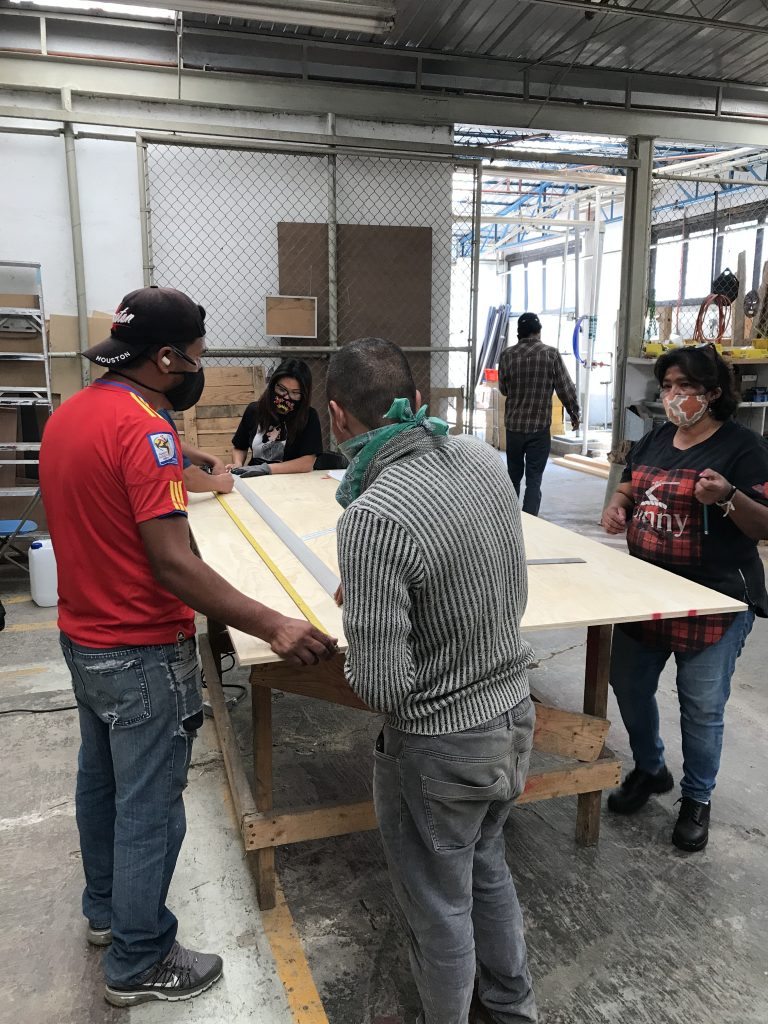 The Fab Lab in Ciudad Retoño is the only lab in the State of Mexico. Its users consist mostly of youth and women, who are invited to use the lab to generate alternative income opportunities. Together with Fab Lab, we have taught them life and entrepreneur skills and provided technical training. This has supported social capital and in the involvement of many residents in the solution of problems through urban interventions.
These activities have allowed us to create a collaborative space with a hybrid scheme for coworking and meeting. Here, local economy is enhanced, and we offer dignified work opportunities for professionals from the East of Mexico City.
It's important to mention that the Fab Labs network offers the use of the following digital CNC machines: Router, laser cutter, vinyl cutter, 3D printer and a multi-purpose printer and cutter.
How does the 3D printing work and what benefits can it bring?
3D printing is a process to create physical objects through the layering of materials based on a digital model. All 3D printing processes need a software, a hardware and materials that can work together. In the last years, 3D printing has become a useful and popular tool and the "maker movement" has influenced disciplines as different as medicines, fashion, gastronomy, and architecture.
Importantly, 3D printing changes the relationship that individuals have with objects and with the society. This is because there is a transition from an industrially produced model to a personally manufactured object. This allows for a strong connection to local society, which is a key component of Fab Labs, which aim to integrate and support local context.
At the same time, 3D printing makes it possible to use technology in moments of crisis to the benefit of a community. For example, during the first trimester of the COVID 19 pandemic, we produced face shields for health workers with our 3D printers. This proves that Fab Labs need to offer solutions to the community members where they are located.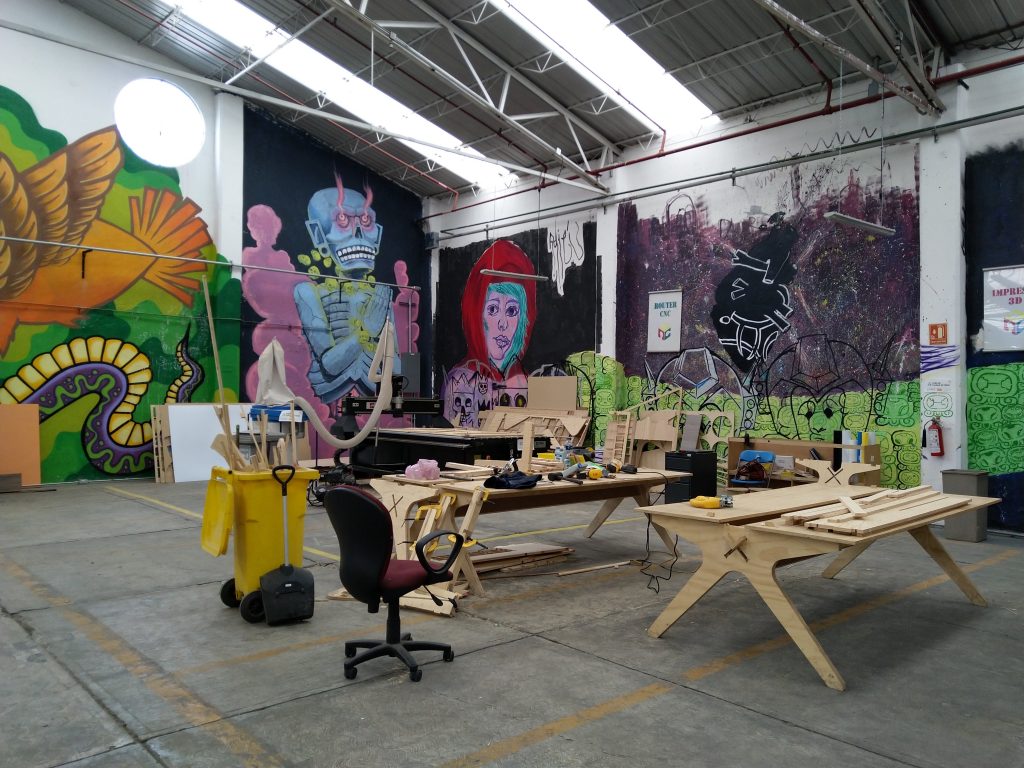 Who are you working with?
In Ciudad Retoño, we are supporting people living in the municipality of La Paz in the State of Mexico, as well as in neighbouring zones. Our work focuses mainly on boys, girls, teenagers, and women. As a result from our actions, we have been able to create an impact on the lives of more than 16,000 people between 2017 and 2020.
What is the main goal of your work?
We are working to encourage economic development and the reintegration of risk groups into society. We use socio-educational, socio-communitarian and socio-labour approaches to create more resilience, improve general education, social economy, and local innovation.
In the long term, our goal is to be an example for integrated and sustainable social development in high vulnerability zones, helping to created resilient communities and to incentivise intergenerational participation to build equality and social justice.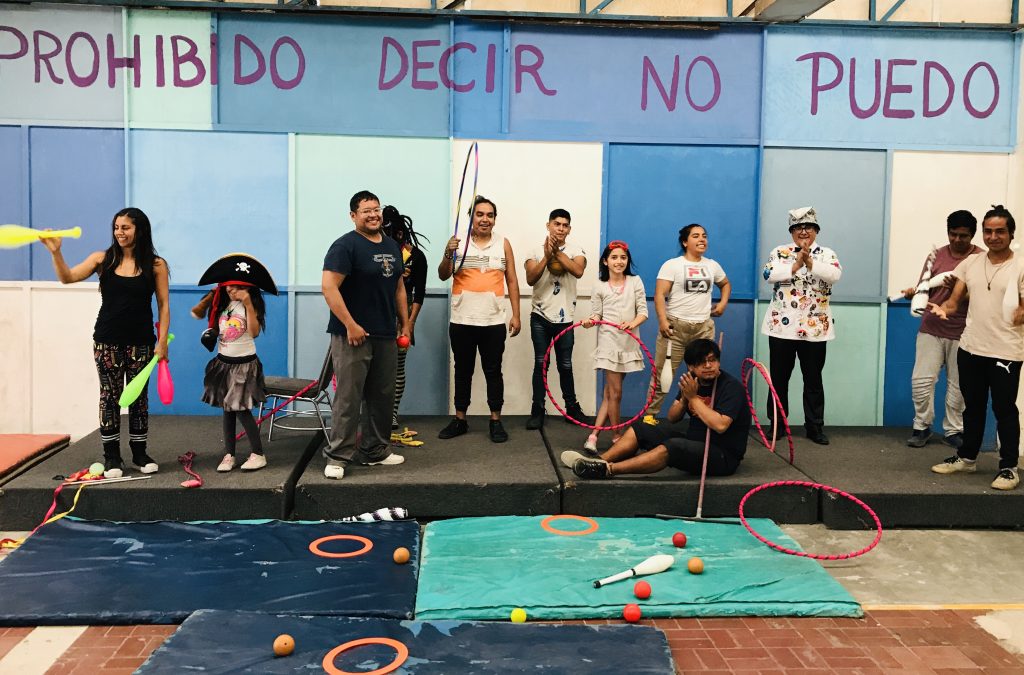 How do you ensure the participation of neighbours?
Fundación Cauce Ciudadano has grown organically, always respecting local context and local communities. Our team is multigenerational and consists of committed professionals who are from the municipality and work on community and culture management. This has helped us to establish a dialogue and a network with community members and neighbourhood networks.
There are two more important aspects: First, we can rely on the methodology and experience from the last 20 years of Cauce Ciudadano's work. This has enabled us to find the best strategies for creating strong bonds with the local community. Second, we have been able to set up in a building with a historical value that is an important point of reference in the municipality. This has led to us being a meeting point of people from the culture, education, and business sectors.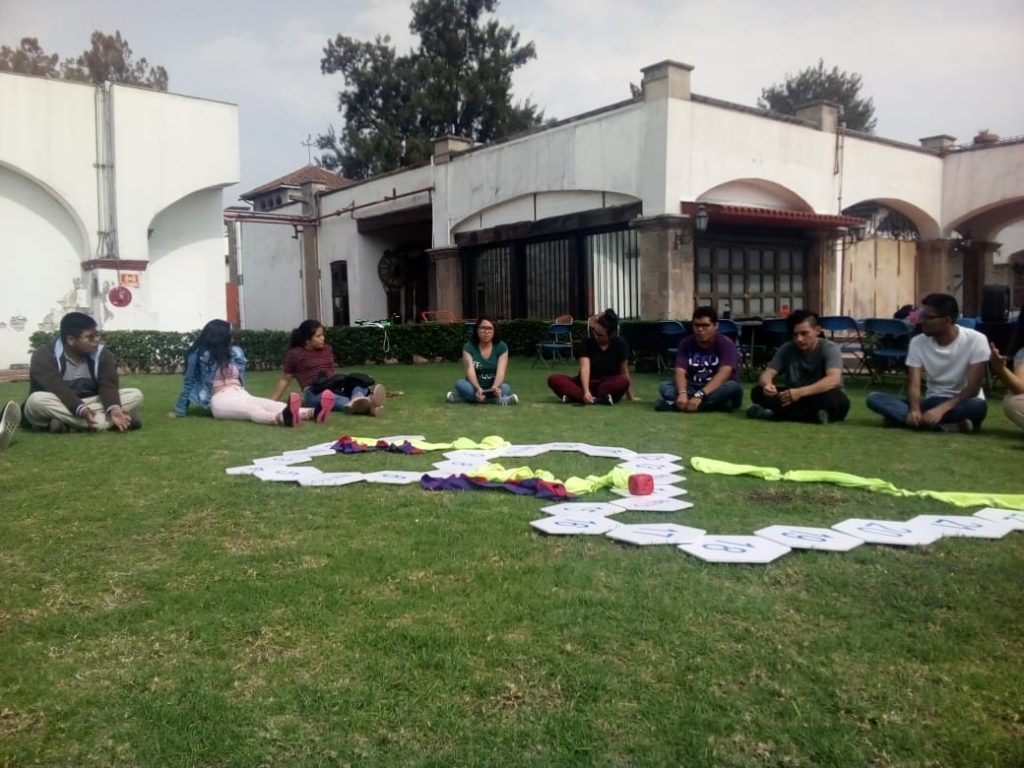 An example of this meeting point is the neighbourhood group called "Los 500 x la Paz". Most of the group's members have been beneficiaries of our culture, sport, and work activities. Based on a cooperation after the 2017 earthquake, the group was formed. Members work on current problems within in the community. For example, they lead activities such as public space recoveries, food deliveries, support to animal protection organisation, and support for victims of violence and disappearances.
What challenges do you encounter in your work?
We are currently most aware of the many challenges brought about by the COVID 19 pandemic. The crisis has led to a paradigm shift with regards to the creation of new intervention strategies for many organisations. Main challenges include the uncertain economic future of the country and stagnation on a personal level for many community members who might not be able to pay for our services now.
At the same time, in our municipality we still have a low level of technology, entrepreneurship, economic power and education. This is coupled with high violence rates, which pose another enormous challenge. Sadly, there has been little willingness from the municipal government to develop collaborative processes. There are many different political disputes here, which make participation without third parties almost impossible. As a non-partisan and secular organisation, we always focus on avoiding politics and religion to honour the diversity of our beneficiaries.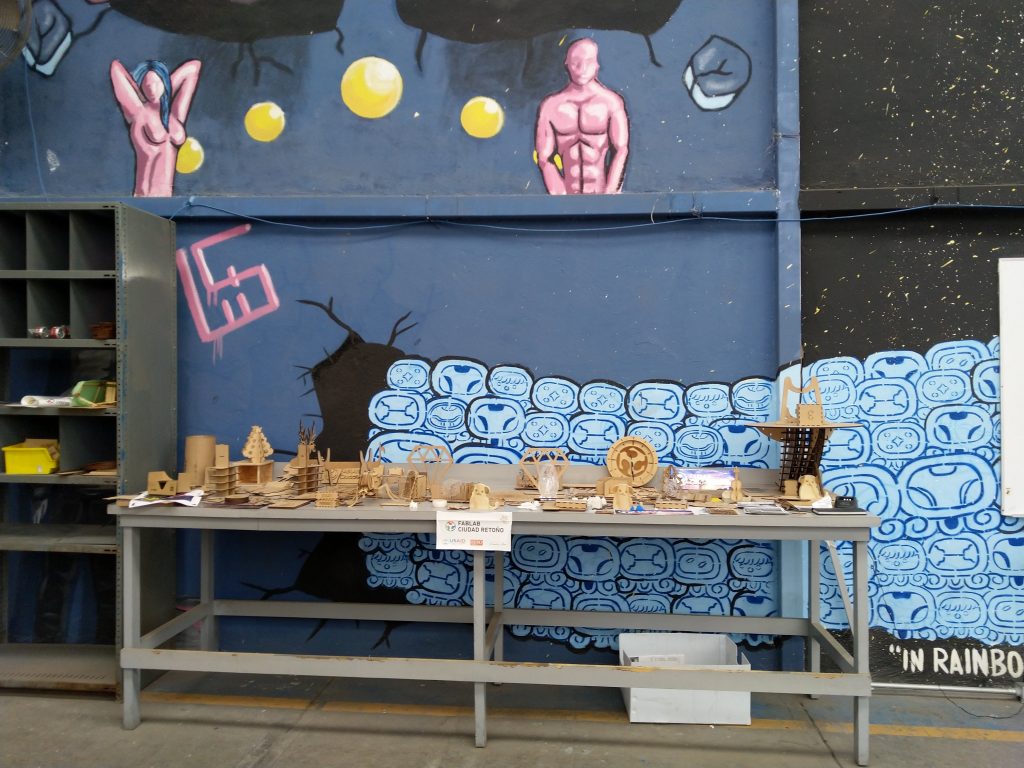 Which opportunities do you see to create more participation in Mexico City?
We think it is most important to have the acceptance and trust of our community. To further improve participation, we think there is potential in opening new communication channels with local government. It is also important to support new initiatives in your area when it comes to technological, cultural, and business innovations. Lastly, we see opportunities in funding and donations that can help to implement initiatives to incentivise citizen participation.
Thank you so much!
¿Qué trabajo hacen en Ciudad Retoño?
Ciudad Retoño es una iniciativa de la Fundación Cauce Ciudadano que es una Organización de la Sociedad Civil sin fines de lucro, la cual nace producto de una Alianza virtuosa con la Empresa Pernod Ricard México, la cual en el 2014 tomó la decisión de cerrar la histórica planta de brandy Casa Pedro Domecq que había sido el principal empleador del municipio de La Paz (Estado de México) y por ende motor de su urbanización y desarrollo económico, de 1951 a 2016.
Frente a la potencial crisis que representaba el cierre de la planta Domecq, en el 2016 el círculo virtuoso creado por Pernod Ricard y Cauce Ciudadano, que acumulaban en su conjunto 25 años de experiencia en la construcción de comunidad, empleo, identidad, innovación, responsabilidad, ética y compromiso; permitieron generar la ecuación:
Circulo virtuoso: Crisis= Cambio positivo = Resiliencias
Por lo que tras la valoración de los alcances de la iniciativa Ciudad Retoño, se definió́ la creación de una nueva figura que favoreciera el crecimiento y proyección, por lo que se decidió crear Fundación Cauce Ciudadano A.C., desde la cual fomentamos el desarrollo integral de grupos de atención prioritaria mediante procesos socioeducativos, sociocomunitarios y sociolaborales, basado en la educación popular, la innovación y la economía social.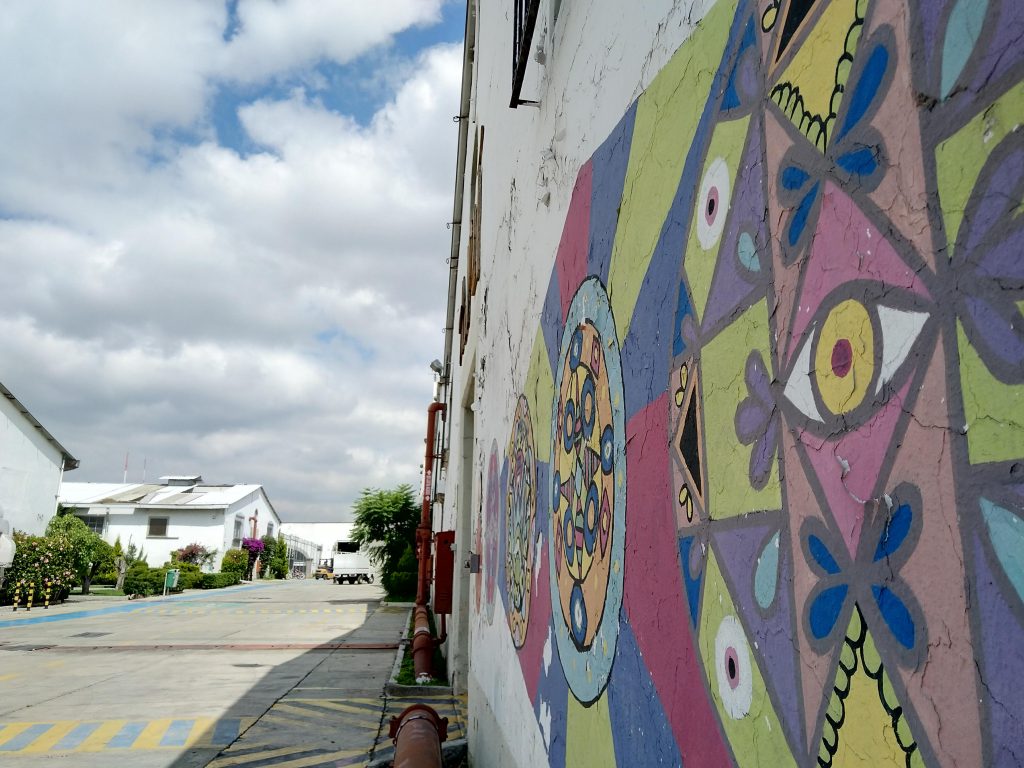 ¿Me podrían contar más sobre el Fab Lab y la impresión 3D?
Fab Lab Ciudad Retoño tiene como propósito democratizar el acceso a la tecnología en la zona conurbada del oriente de la Ciudad de México, siendo una de las zonas con mayor marginación social.
Cabe mencionar que los Fab Labs, son un movimiento internacional que nace en el Massachusetts Institute of Technology (MIT) y el término proviene de la expresión en inglés Fabrication Laboratory, según la Fab Foundation que coordina 200 centros de este tipo en más de 40 países, se definen como "una red global de laboratorios locales que favorecen la creatividad al proporcionar a los individuos herramientas de fabricación digital, de forma que cualquier persona puede usarlos para fabricar cualquier cosa."
Desafortunadamente el acceso a ellos ha sido limitado y gentrificado; en México hay alrededor de 40 laboratorios los cuales son de difícil acceso para diversos sectores de la población debido principalmente a que están ubicados en universidades privadas, son especializados o con costos poco asequibles.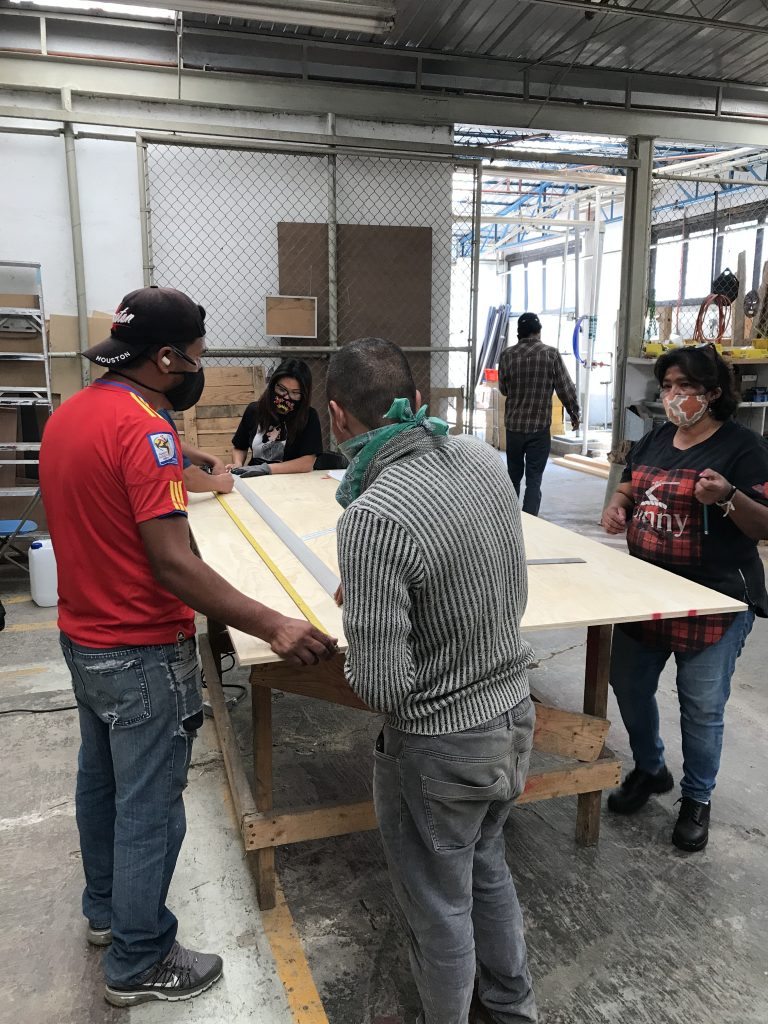 Fab Lab Ciudad Retoño es el único que se encuentra en el Estado de México y su perfil de personas usuarias está enfocada en jóvenes y mujeres prioritariamente, que a través de capacitación técnica, con el de fortalecimiento de Habilidades para la vida y de emprendedurismo, se propone impulsar la generación de alternativas de empleabilidad y de ingresos, así como la activación de la actoría social e involucramiento de las personas en la resolución de problemáticas de manera local a través de intervenciones urbanas.
Lo anterior nos ha permitido que se vuelva en un espacio colaborativo con un esquema híbrido para co-trabajar y generar un punto de encuentro para potenciar la economía local, dignificando el valor y talento de las personas profesionistas o dedicadas a un oficio, en el oriente de la zona metropolitana.
Es importante destacar que la red de Fab Labs operan a través de brindar el servicio de uso de la siguiente maquinaria digital CNC: router, cortadora láser, cortadora de vinil, impresoras 3D y kit de sublimación.
Respecto a la impresión 3D es un proceso por el que se crean objetos físicos mediante la colocación de materiales en capas según un modelo digital. Todos los procesos de impresión 3D requieren que el software, el hardware y los materiales trabajen de forma conjunta; en ese sentido ha sido una herramienta muy útil y popularizada en los últimos años; y el movimiento maker ha tenido mucho que ver en ello puesto que ha impactado en disciplinas tan variadas como la medicina, la moda, la gastronomía o la arquitectura.
Otro aspecto importante, es que la impresión 3D modifica la relación del individuo con los objetos y la sociedad en general; hablamos de la transición de un modelo de producción industrial a un modelo de manufactura personal, siendo este un componente clave de los Fab Labs por su fuerte vinculación con la sociedad a nivel local, puesto que nacen con la intención de integrarse en el contexto donde se ubican.
Por otro lado, su importancia también radica en hacer uso de la tecnología en momentos de crisis para beneficio de la comunidad, por lo que durante el primer trimestre de la pandemia por COVID-19, producimos caretas protectoras en impresión 3D para el personal de salud; corroborando así que los Fab Labs deben estar orientados a promover soluciones a problemáticas de las comunidades donde se trabaja.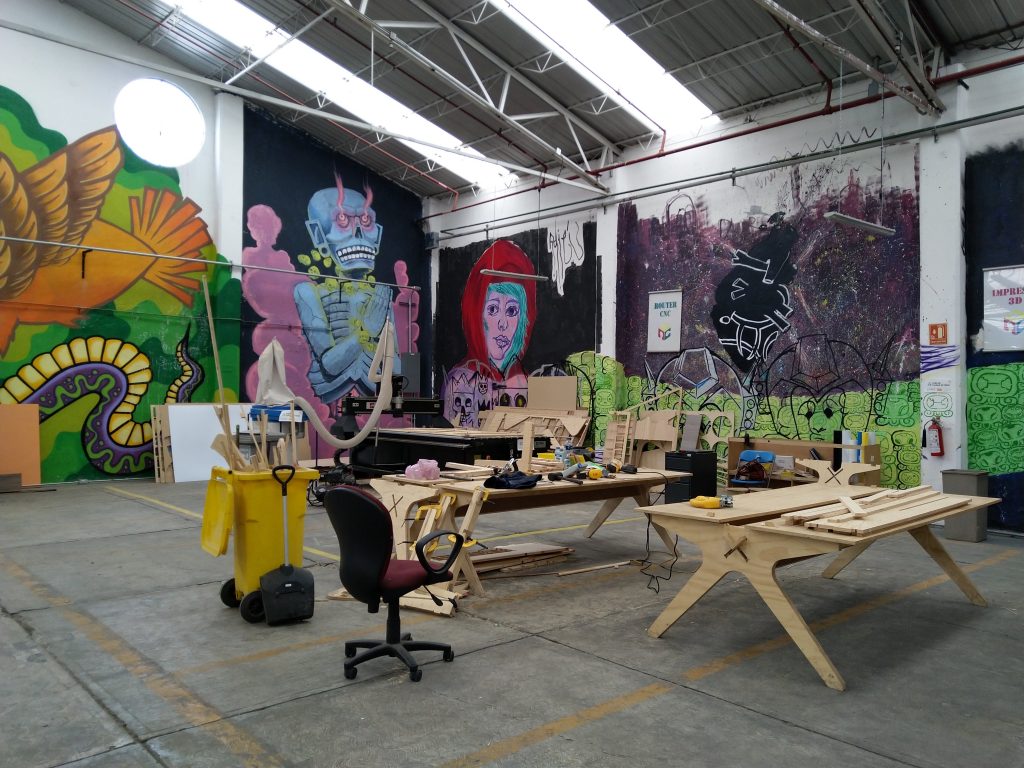 ¿Con quién trabajan?
Desde "Ciudad Retoño" se fomenta y promueve el desarrollo integral de las personas que habitan el municipio La Paz, Estado de México y zonas aledañas. Nuestra labor se focaliza principalmente con niñas, niños, jóvenes y mujeres. Como resultado de nuestras acciones hemos podido impactar a más de 16 mil personas desde el 2017 a diciembre de 2020.
¿Cuál es su meta con su trabajo?
Fomentar el desarrollo integral y la reinserción de grupos de atención prioritaria mediante procesos socioeducativos, sociocomunitarios y sociolaborales, basados en la resiliencia, la educación popular, la economía social e innovación.
A largo plazo nuestra visión es ser un referente en el desarrollo de un modelo integral de sostenibilidad social en zonas de alta vulnerabilidad para generar comunidades resilientes e incentivar la participación intergeneracional en la construcción de equidad y justicia social.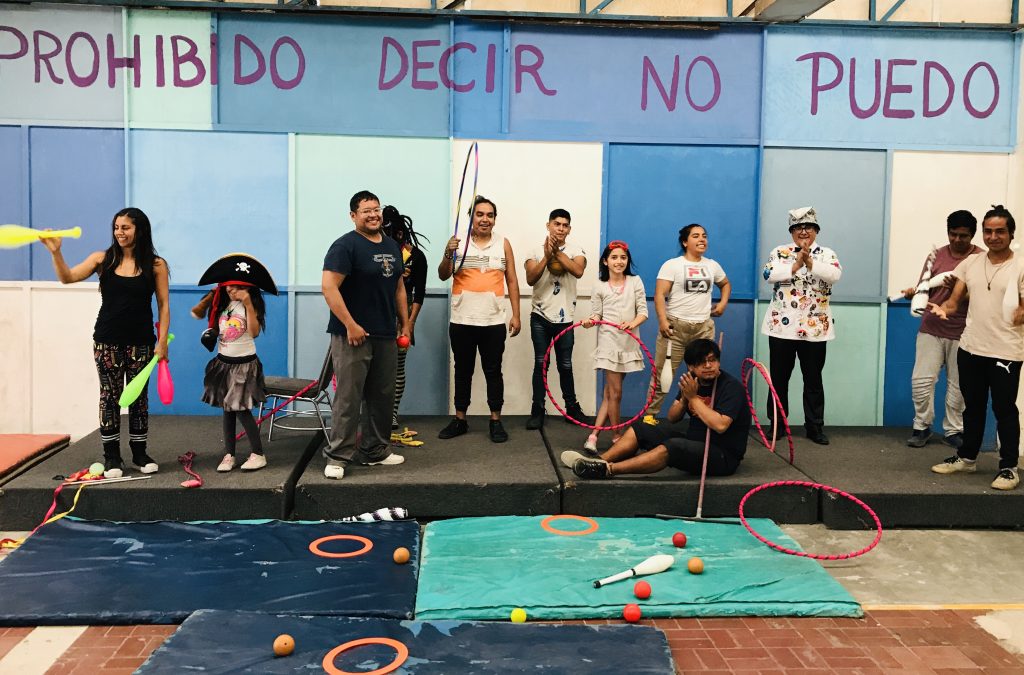 ¿Cómo aseguran la participación de l@s vecin@s?
Fundación Cauce Ciudadano ha crecido de manera orgánica; respetando el contexto y a la comunidad donde incide; el equipo que operamos está conformado intergeneracionalmente por personas profesionales y comprometidas, originarias y referentes dentro municipio vinculadas a los procesos de gestión comunitaria y cultural, esto último nos ha facilitado el diálogo y la vinculación las personas de la comunidad y redes vecinales.
Dos aspectos importantes son que por un lado contamos con la transferencia metodológica de 20 años de experiencia de Cauce Ciudadano lo cual nos ha facilitado el conocimiento para desarrollar las estrategias comunitarias para la vinculación comunitaria. Por otro lado, el desarrollar nuestras acciones dentro de un inmueble con valor histórico y referencial en el municipio, ha detonado que seamos un espacio de encuentro de actores en el área cultural, educativa y empresarial.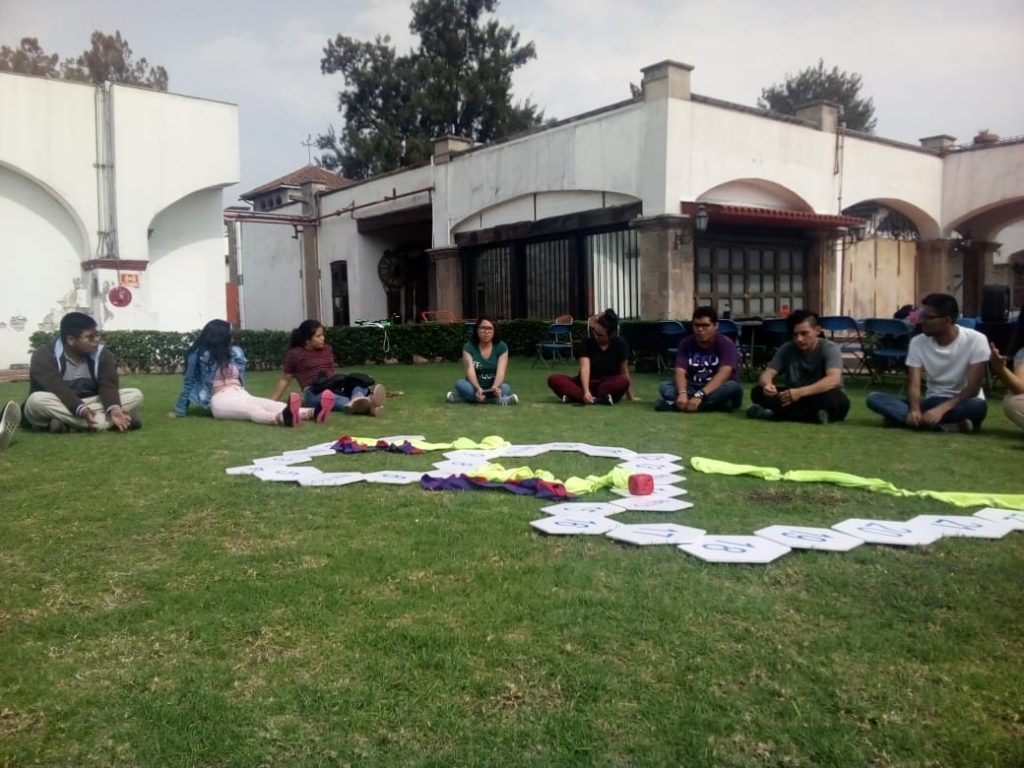 Un ejemplo de ello es la conformación del grupo de vecinal llamado "Los 500 x la Paz", quienes en su mayoría han sido usuarios de nuestras actividades culturales, deportivas y laborales, y a partir de la colaboración conjunto a raíz del sismo de 2017, se organizaron para conformar un grupo sensible y comprometido con las problemáticas del municipio, que abonen en un cambio en su comunidad, llevando a cabo actividades de recuperación de espacio público, entrega de abasto, apoyo a fundaciones animalistas, acompañamiento a víctimas de violencia y desaparición.
¿Cuáles retos tienen en su trabajo?
Estamos conscientes que son muchos los desafíos que se están presentando en el contexto COVID-19, puesto que la pandemia ha representado un cambio de paradigma en la creación de nuevas estrategias de intervención para las organizaciones que trabajamos en lo social, lo educativo y laboral. De los principales retos están en la generación de estrategias frente a la incertidumbre del rumbo económico del país, por el estancamiento a causa del bajo crecimiento económico y el bajo poder adquisitivo de las personas para pagar algunos servicios que brindamos, por otra parte, la baja cultura tecnológica, empresarial, financiera y educativa en el municipio, los altos índices de violencia en el municipio son otro reto enorme.
Desafortunadamente hay poca disposición del gobierno municipal a desarrollar procesos colaborativos, el municipio es un lugar donde hay diversas disputas políticas lo cual evita tener procesos de participación libres de intereses de terceros, de hecho, el mantenernos como una fundación apartidista y laica ha sido una de nuestras principales directrices para respetar la normativa y la diversidad de personas usuarias de nuestros servicios.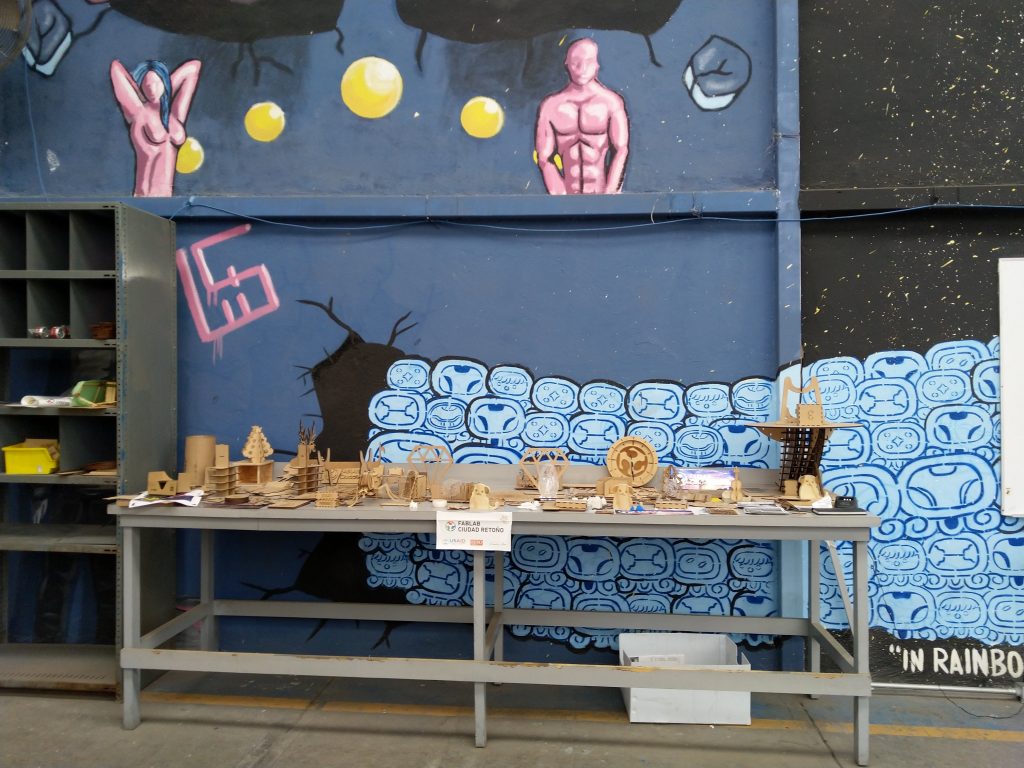 ¿Cuáles oportunidades ven para crear más participación en la Ciudad de México?
Principalmente contar con el reconocimiento y confianza de la comunidad donde incidimos para propiciar el interés de participación vemos potencial en seguir intentando abrir canales de comunicación con el gobierno local. Es importante trabajar en ser referente de apoyo a iniciativas nuevas en la zona oriente, en las áreas de tecnología, cultura y emprendimientos.
Por último, vemos oportunidad en lograr obtener y acceder a financiamientos y/o donaciones que faciliten la realización de iniciativas que incentiven la participación ciudadana.
¡Muchas gracias!