How has COVID-19 affected and changed public spaces? In North London, local volunteers have created a "Streatery" on the formerly neglected Belsize Village square, turning it into a thriving public space. I spoke to Bob Stephenson-Padron, one of the main organisers of the Belsize Village Streatery. What drives this passionate volunteer? And what can urban planners learn from him?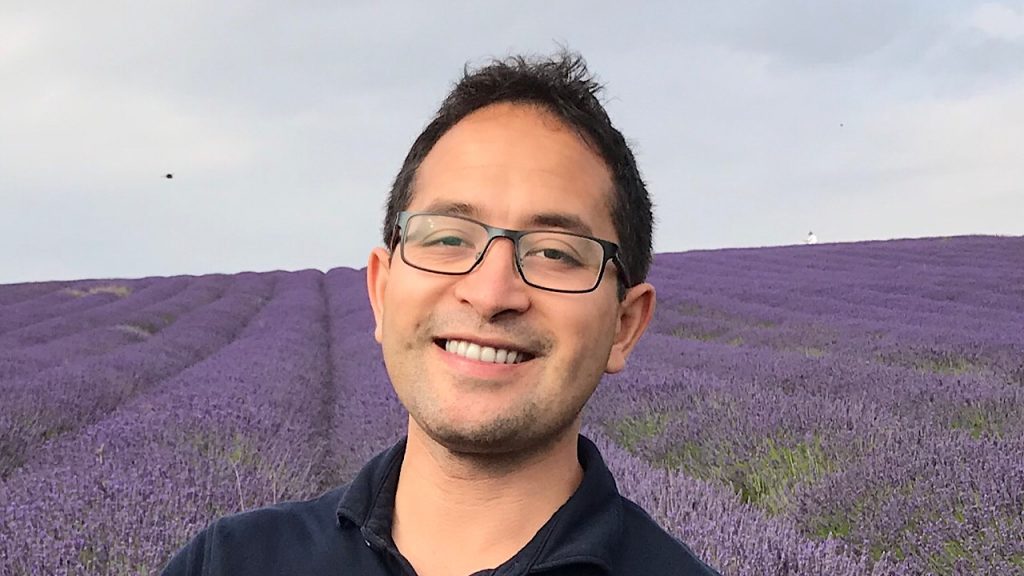 Bob Stephenson-Padron of the Belsize Village Business Association arrives early for the interview, walking at a brisk pace and stopping occasionally to pick up empty plastic bottles and other bits of waste from the street. Before greeting me properly, he discusses some controversial comments on Instagram with the local fish monger. Bob speaks as quickly and efficiently as he moves. During the interview, he responds to calls and messages. After all, he is the key contact for Belsize Village's Streatery, a public space that resembles a restaurant. What drives this energetic man?
Bob used to live in California and maybe it is the typically sunny disposition and can-do-attitude of the Golden State that gives him such abundant energy. He has lived in London's affluent Belsize village between 2010 and 2020. He still works here, running Penrose Care and actively advocating for the Living Wage movement, which campaigns for a minimum wage of 10.85 GBP per hour. His company has received two Living Wage Champion awards.
In October 2018, he founded the association with Aya Khazaal of Pivoine Nail Spa. Their idea was to revive businesses, introduce a living wage commitment to the area, and to clear up the dirty Belsize Square.
Bob started out with a marketing campaign in order to improve the sense of community in the area. The Village Association is particularly active on Instagram, where it has documented the clean-up campaigns. When the pandemic hit in the spring of 2020, residents approached the group to get their support in creating a better public space at the heart of the village.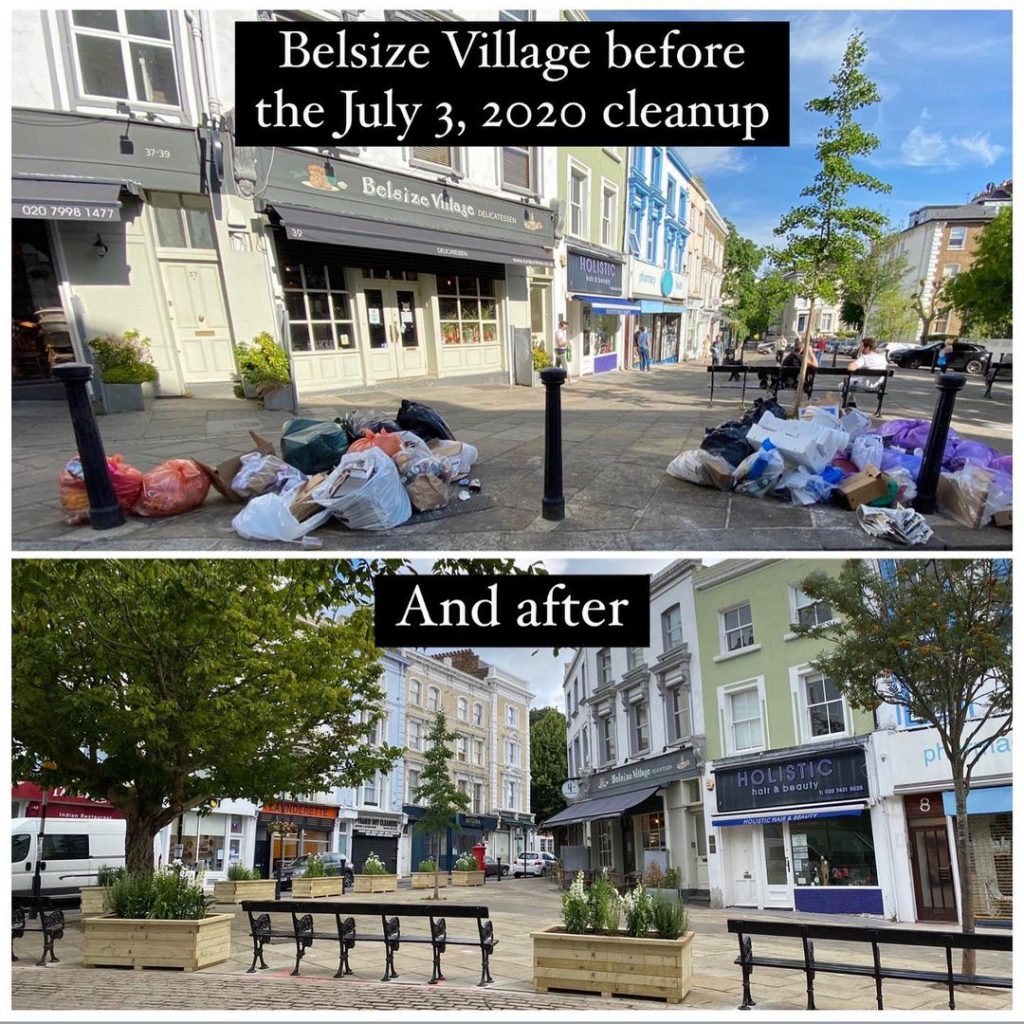 Together with volunteers, Bob organised several clean-ups and started to set up the Streatery, where a local bagel shop and Greek, Indian and Brazilian restaurants offer outdoor seating.
After some struggles with Camden Council, a 2-week licence was granted to London's first Streatery in July 2020. After the initial two weeks, the Association succeeded in prolonging the licence.
Other Streateries in nearby areas sprung up. In 2021, the Belsize Village Streatery opened again from April 12th, with even more support from restaurants and residents. "In fact, the ones who were most hesitant about communal working are now it's most ardent defendants," Bob says.

What started out as an initiative to support local businesses during the lockdown has created a profound transition in Belsize Village. The formerly deserted high street now has only one empty property. New businesses, such as the trendy "Cinder" restaurant and an organic grocery store have come to the square. Waste is neatly kept to the side, local street art has been restored and a pop-up library in an old office drawer has been installed. Volunteers regularly water the flower boxes lining the square.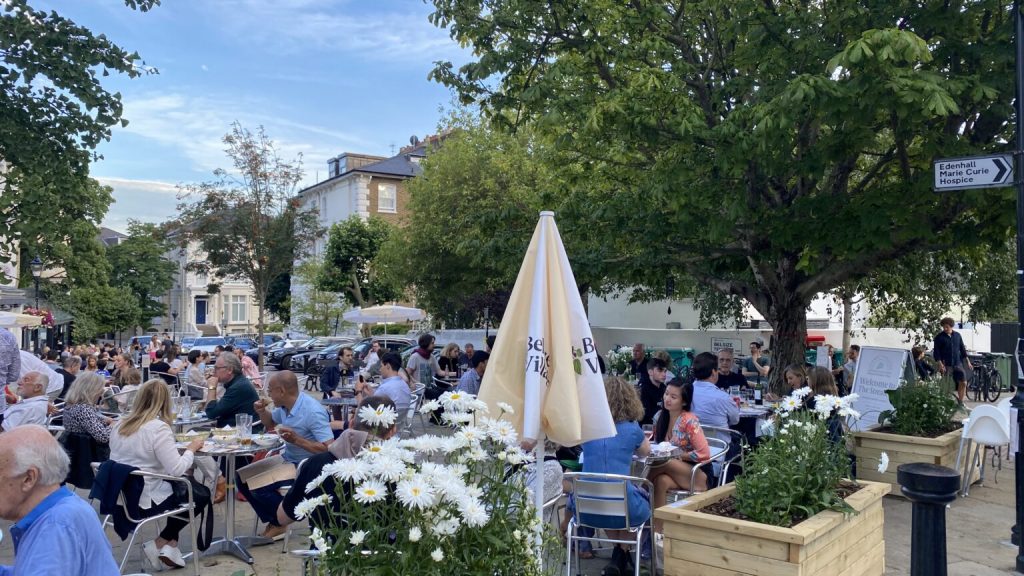 "In the 12 months since the Streatery opened, I have met more neighbours and felt more community spirit than in all the 35 years I have lived here," a resident of 36 years comments.
When I ask Bob how he maintains this community spirit, he says that Instagram has played a crucial role in bringing the community together. And indeed, I find myself checking their stories daily to be kept up to date with what is going on in Belsize Village. From opening times to special offers, closures because of bad weather, local and national news and everyday inspiration, the account is key to local life.
"The Council were initially hesitant about the Streatery but are now actively supportive. We have had overwhelming support from the residents since our first consultation in June 2020 but we have had challenges dealing with a tiny but vocal minority of opposition who tend to have little respect for the truth," Bob confides.
However, the increased vibrancy, the obvious high footfall and the impressive community spirit that is palpable in interactions and on social media tell the tale of a big success story. "The booming of public space has boomed the entire neighbourhood," Bob concludes. His vision for Belsize Village goes far beyond the thriving piazza. Restoring store fronts and continuing to bring neighbours together will be his next steps, apart from maintaining the Streatery.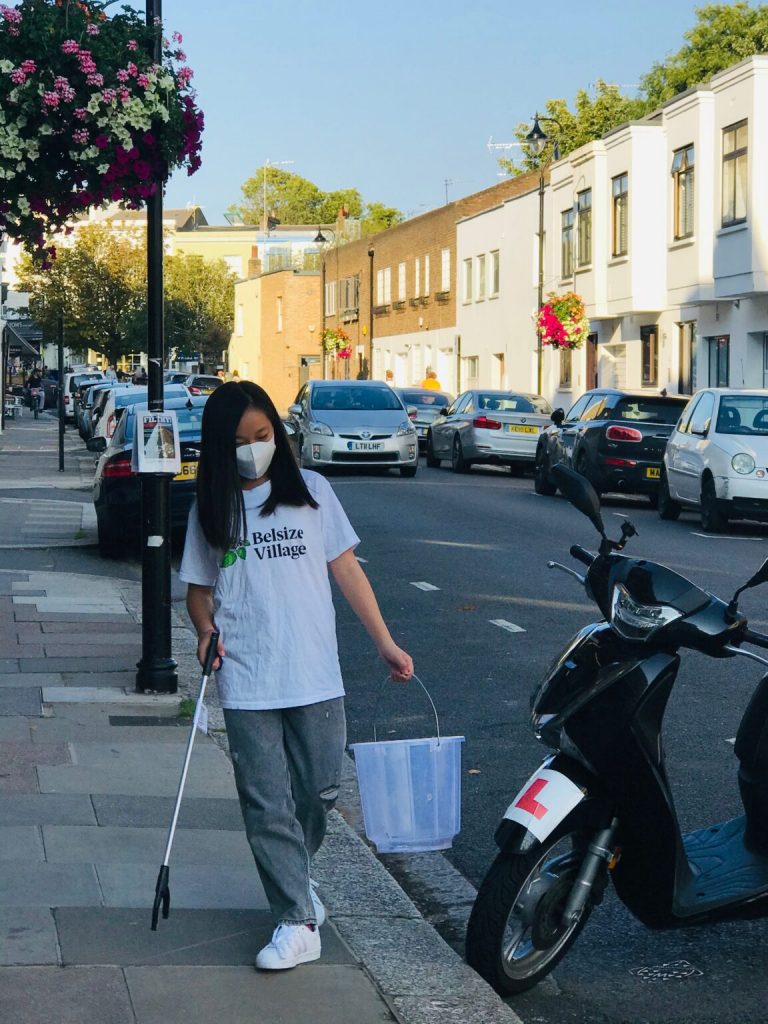 When asked what he would recommend for other neighbourhoods that are struggling with waste and decline, Bob says: "It's simple, you have to clean your streets in order to create a community." He starts to get restless towards the rest of the interview and proclaims that it is time for his daily walk.
Over the next few hours, I see him out and about on the square, chatting to neighbours and store owners, sitting down for an occasional drink at the Streatery with one of his many acquaintances, and picking up waste left and right. This inspiring man really is the beating heart of the impressive public space and community revitalisation of Belsize Village.