Written by Naira Bonilla. Naira is a communication and sustainability consultant who helps nonprofits and social enterprises improve their outreach strategies and create messages that reach diverse audiences and inspire people to act and donate.
Did you know that WhatsApp is the top messaging app in the world? It has more than 2 billion active users across 170 countries/territories. 25% of the world sends thousands of messages, voice notes, links, files, pictures, and locations on WhatsApp every day.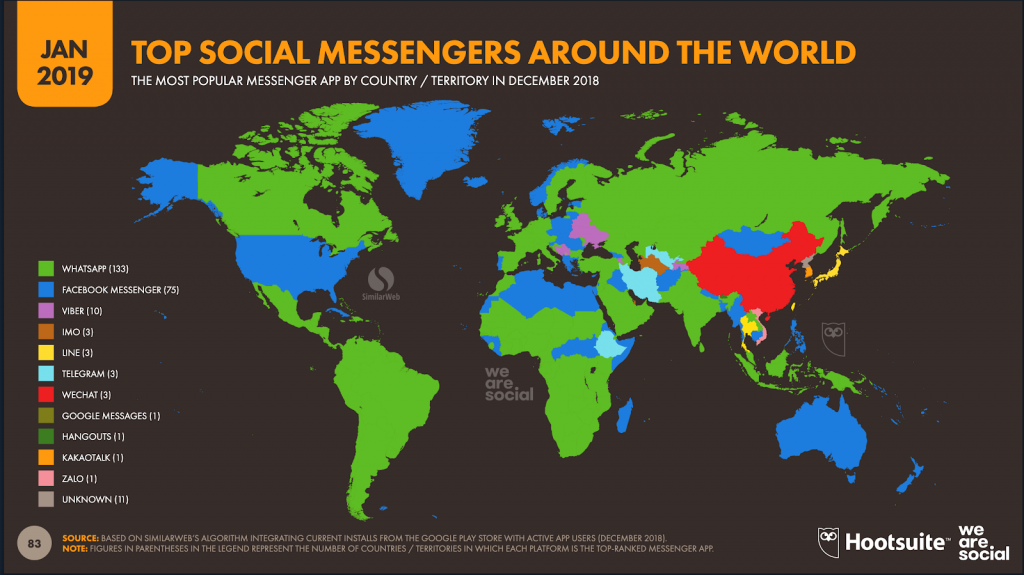 But imagine if instead of sending the location to the closest bar, you share the site of protests or inform people of an impending flood? That's when WhatsApp becomes a tool for social change. Here are five ways in which WhatsApp is being used to increase community participation and agency in rural and urban areas worldwide.
Creating trust
Communication on WhatsApp is direct and personal. You need the phone number of the person you are texting so you can either get it from them directly or from someone they know. This helps you establish an immediate connection that is more likely to get a response. Additionally, a WhatsApp chat can be less intimidating than an email or a contact form on a website, it allows people to speak more freely and have certainty that there is someone on the other side to provide an answer. GuideStar, an NGO in India, is using WhatsApp to create trust with stakeholders from different areas of the country. They share essential documents, provide support, receive feedback, and find volunteers to translate messages to multiple languages.
This decentralized way of action allows people to feel heard while motivating them to take part in an organization's activities, even if it's by doing something simple like sharing a message or answering questions.
Sparking grassroots action
WhatsApp can be used to organize all types of events, from marches to formal meetings and even grassroots movements in the middle of a pandemic. Let me give you an example. My dad lives in a small town in Colombia. He's part of a WhatsApp group that wants to reduce corruption in local government offices by reviewing public contracts. At the beginning of March, they found some suspicious contracts signed by the mayor, so they decided to share this information with other WhatsApp groups to investigate and verify these claims. Since there was a strict lockdown, the leaders of the community interacted solely on WhatsApp. Within days they were able to create a strong case against the mayor. A couple of days later, the case was covered by a national radio station, and the mayor resigned.
WhatsApp groups that have a defined purpose and are managed strategically can bring upon positive change and create strong bonds within a community.
Providing real-time information
WhatsApp can also be used as a way for international organizations to inform millions of people at once. The World Health Organization created WhatsApp channels in 11 languages to share information on COVID-19. A link takes you directly to the chat, and a bot sends you information on the number of cases, travel recommendations, and myths surrounding COVID-19. These features that are available on the WhatsApp for Business app are an excellent way for businesses and NGOs to share information with people that have low internet connectivity and cannot access information on TVs or computers.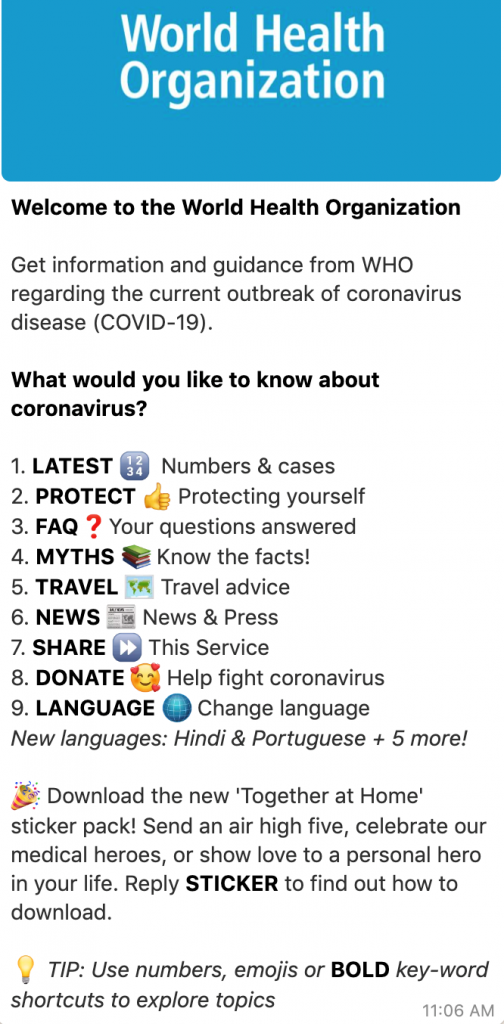 Smaller organizations or activist groups can create broadcast lists to share information with up to 256 people at a time. These types of strategies allow people to make informed decisions by having a direct relationship with the information providers without the danger of receiving skewed versions from other sources.  
Reaching remote areas
More than 2.5 billion people in the world have smartphones. In advanced economies, on average, 76% of the population uses smartphones while in emerging economies, it's around 45% and growing. Countries that have connectivity issues due to difficult geographies or that are facing pressing social issues such as migrant crisis can use WhatsApp to reach isolated and vulnerable communities. A report by the International Committee of the Red Cross published in 2017 shows that NGOs are using WhatsApp and other messaging apps to reach refugees and communities in conflict areas. In one case, an NGO that transfers cash payments to refugees started asking beneficiaries to send them pictures of their information instead of reading it on the phone to avoid mistakes and have a more reliable database.
Having a direct communication channel with these communities can help organizations create baselines with fewer costs and plan projects that truly include local voices.
Inspiring people to donate
When was the last time you gave to a social cause? People usually donate when they trust in an organization and know the funds will be used appropriately. Community organizations can harness the direct nature of WhatsApp to gain support from their peers. By tapping into your networks and sharing your information on existing WhatsApp groups, you can ensure it will reach people that already know and trust you. This can increase the likelihood of inspiring people to donate to your cause. In Brazil, WhatsApp has begun to roll out payments directly through the app. If this works and scales to other countries, it could transform the way grassroots organizations fund their actions.
Using technology for action
WhatsApp is not only a messaging app to keep in touch with friends and family; it's also a powerful tool that can be used to:
Boost trust from local stakeholders
Organize social leaders
Communicate vital information to large audiences
Give a voice to communities in remote areas
Inspire people to support your cause
The world is embracing the rapidly evolving world of online communication. Social movements can take advantage of this by harnessing the power of tools like WhatsApp and applying them to real-life solutions.
Thank you, Naira!