At WUF 11, I talked to Michel Zuluaga, Gender and Youth Coordinator of the project Vivo Mi Calle in Colombia.
What is Vivo Mi Calle about?
Cali is Colombia's third largest city with a population of 2.4 million people. The city is facing many challenges, such as youth poverty. Vivo Mi Calle is a participatory process taking place in Cali's public spaces. The host institute is Despacio, an NGO from Bogotá, and funding comes from Fondation Botnar. Our target group are adolescents between 10 and 15 years old. We want to tackle their loss of interest in urban things.
In our collaborative and social projects, we regenerate public spaces to make them more liveable, looking at factors like health, gender equity, and wellbeing. We work with the government and to support participating youth in terms of communications, leadership skills and capacity building getting tools to participate in process with decision makers.
What do you think are the special contributions of youth to urban planning projects?
Because of the different scales of their lives, they have a different reality in the city. Young people typically walk. A 15-minute radius is the boundary of their neighbourhood even less. However, this scale is often not included in planning, which focuses more on the working population and services.
We also find that young people have very different approaches to problems in urban planning. They think more in terms of equality, and they talk about their emotions. "I feel bad here" is a very simple sentence, but it shows a lot. Constructs such as walls can become myths in their imagination, showing that much urban planning really is about emotions and where they want to hang out with friends comfortably.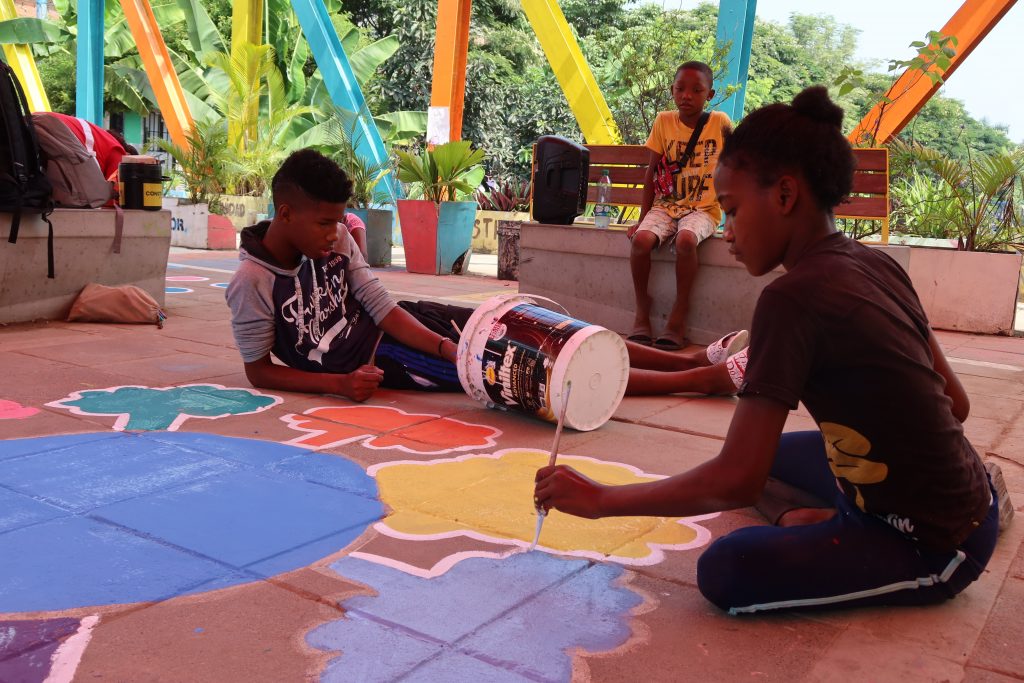 Why is Vivo Mi Call successful and what lessons could you share with other cities?
We are here to show diversity and different visions at the World Urban Forum, and we have felt many similarities with the young people from Ukraine in particular, due to similar repercussions from war.
I think our main success is the fact that Vivo Mi Calle is not that active anymore in some of the projects, but the youth has appropriated them, like the cycling route cicloruta. This ownership is possible because they see the projects as a "product of their own hands".
In terms of lessons, it is important to look at both a physical and a social renovation of the city. By establishing different youth groups, for example for gardening, young people become responsible and take on responsibilities beyond the project. This is a sustainable approach that supports peacebuilding and can help overcome invisible barriers. In Colombia, the invisible borders refer to the social subdivisions in which a territory has historically been "established" or is part of the defense line of micro-trafficking groups or neighborhood gangs. In Colombia, the invisible borders refer to the social subdivisions in which a territory has historically been "established" or is part of the defense line of micro-trafficking groups or neighborhood gangs.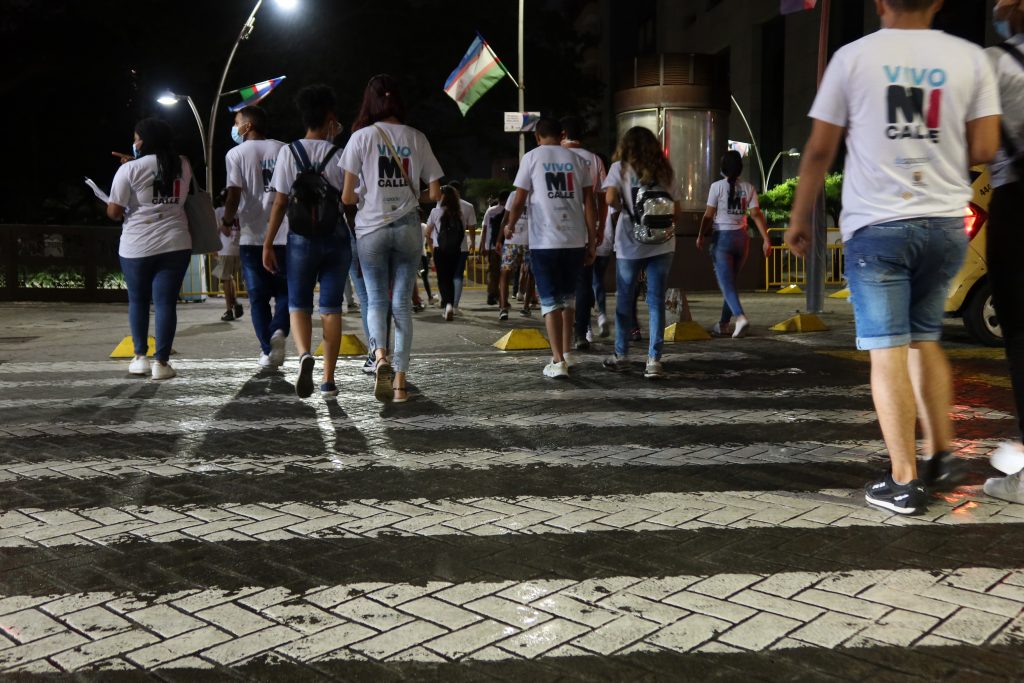 What challenges have you encountered with the project?
Of course, the pandemic has been a big challenge. We were going to start our in-person leadership programmes, but this was not possible. Many young people in this context Colombian neighbourhood do not have internet or gadgets, so we ended up postponing the workshops. How do you teach soft skills in a pandemic? In the end, we got support from different secretaries of the new government.
The 2021 protests in Colombia were another challenge. We decided to make our objectives more flexible and change some topics. So instead of speaking about bicycles, we discussed the protests with youth. It is important to treat them at eye-level and to show them respect, rather than being condescending with adolescents. Make sure that their thoughts are valued.
Would you compare the urban youth movement to Fridays for Future?
We have talked to many youth organisations here and they all struggle with governments who don't listen to topics like female rights, diversity, sexual and reproductive health for youth or environmental topics. I think that in the Fridays for Future movement, a leadership like Greta Thunberg's creates a lot of hopes and expectations.
In Cali, for example, many young people tend to feel hopeless. They need to have a space to fulfil themselves, but it is very frustrating if they don't find that. Therefore, it is important to talk to the press, talk to feminists, or other groups to find alliances.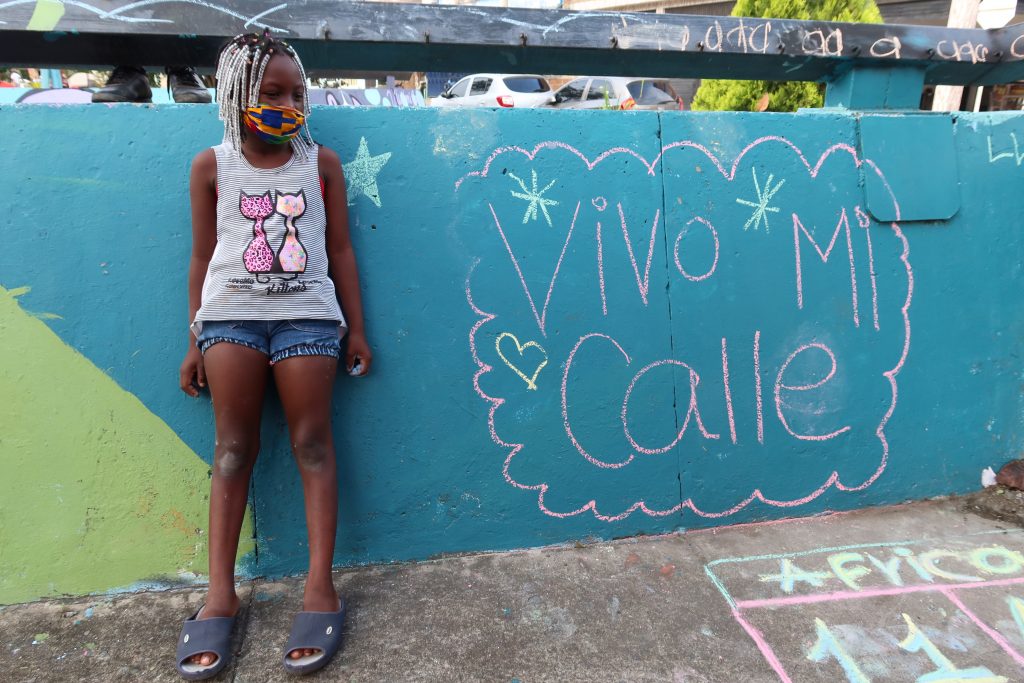 What are the next steps for Vivo Mi Calle?
13 of us, all young people, are working at Vivo Mi Calle. We want to create a handbook with testimonies to show the potential of bottom-up work. We are also looking into topics such as gender roleplay activities, music, dancing, and fashion – all of these are led by youth.
We want to close existing gaps by focusing on respectful communication and leadership and communication skills.
Projects by Vivo Mi Calle
Puente de colores: El Puente de colores was the first major city intervention that we carried out at Vivo Mi Calle, together with the youth of El Poblado II and members of the community of this neighbourhood in the east of Cali.
Date of the intervention: 2019
Number of participating children and adolescents: 115
Persons benefited: 4,479
Alliances: Nuevo Latir official educational institution, Undersecretary of Territories of Inclusion and Opportunities (TIOs), Secretariat of Mobility.
Description: Create a safe route for the students of the Nuevo Latir official educational institution living in and around the El Poblado II neighbourhood.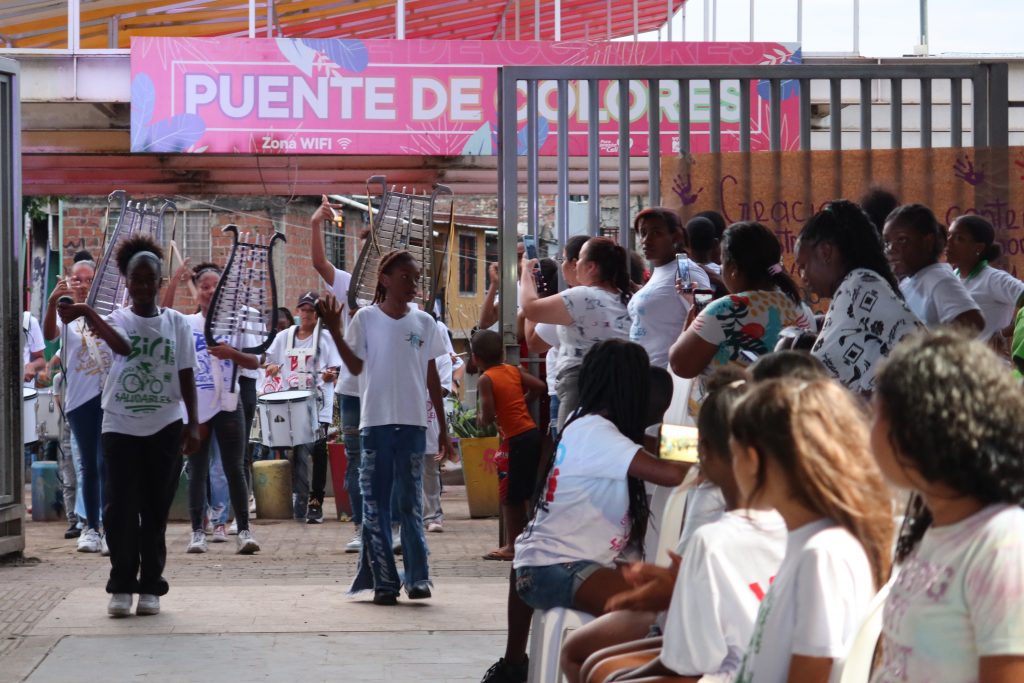 Aula Vivo Mi Calle: The Aula Vivo Mi Calle, launched in June 2021, has become an outdoor meeting point for the Aguablanca District community.
Date of intervention: 2020
Number of participating children and adolescents: 256
People benefited: 13,289
Alliances: Secretariat for Peace and Citizen Culture, Museo Libre de Arte Público de Colombia (Muli), Dagma, Uaespm, Veolia and the official educational institutions Santa Rosa and Nuevo Latir.
Description: To improve the health and wellbeing of young people by creating spaces for learning, recreation, sports and the exchange of knowledge in the open air, in conditions of collective creation and with the biosecurity required by the current health emergency.
Ruta Saludable: Vivo Mi Calle, together with the Mayor's Office of Palmira, launched its latest city transformation to host the first Junior Pan American Games.
Intervention date: 2021
Number of participating children and adolescents: 1712
Partnerships: Palmira Mayor's Office, Traffic Secretariat, Cooperation Office and Pazos Programme.
Description: Improve the physical, social and mental well-being of children, adolescents and young people in Palmira through the co-creation and implementation of a healthy bicycle route with their active participation.