Guest article by Bilal Shah
Walls have typically been erected to serve as partitions meant to divide our living spaces, for confinement and shielding what we consider private from those who we consider the others. Yet some people have found a way of turning walls into places of sharing and kindness. The Deewar-e-meherbani or the "Wall of Kindness" movement, if it can be categorized as one, is one such initiative that has turned some walls around the world into venues of charity. The idea is simple enough: it basically consists of a wall with hooks for hanging clothes that are intended for donation to those who may be in need of clothing. Racks and shelves have also been installed at some walls to add shoes and other articles. Some donors have even installed containers for food to help out their fellow citizens in need.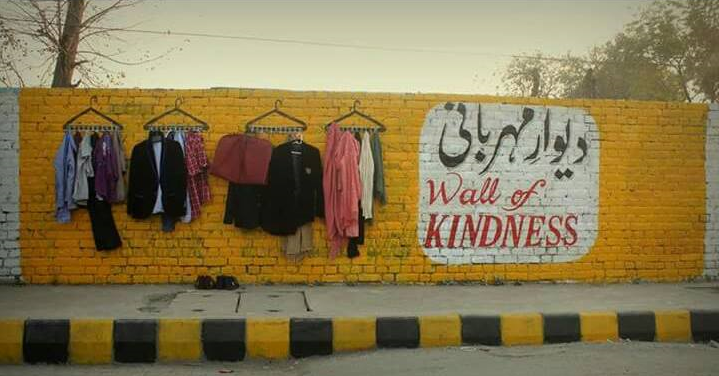 The first of such walls is said to have appeared in one of the cities of Iran a couple of years ago, by conscientious citizens who felt that the homeless and poor people on the streets of their cities were not being provided for adequately by their governments and other institutions. This novel form of charity soon spread through a number of cities in Iran, before spilling over the border into neighboring Pakistan. People usually paint a wall with vibrant and welcoming colors, with the words "deewar-e-meherbani" written in bold letters in their native languages and then encourage anyone to "leave what you don't need" and "take if you need". You can view a map and list of some walls throughout Pakistan at www.mapemeherbani.com. There have been reports of such walls, with different names, springing up in India and China as well.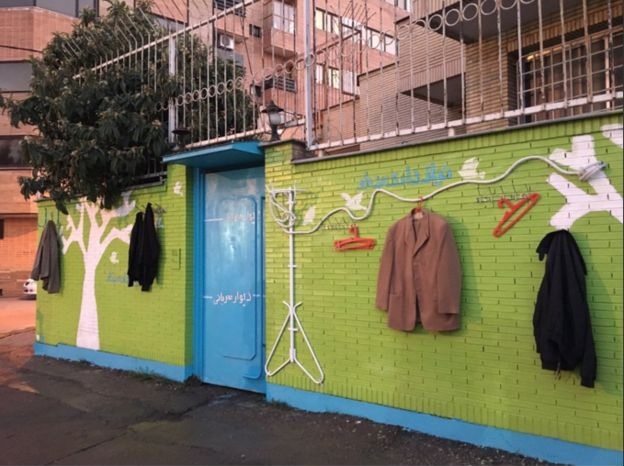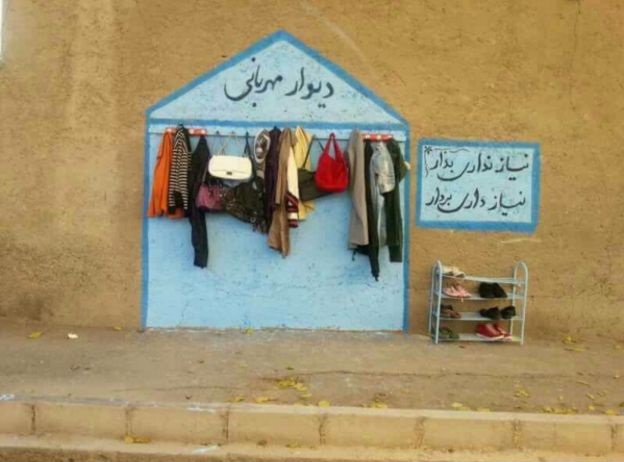 What makes it a great idea is that these walls offer an easy and anonymous way of both donating and receiving items of basic need. Considering the reality that the poor and the homeless seldom possess the knowledge of where and how to access formal sources of provisions and how big charity initiatives require considerable resources to set up and run, a wall of kindness alongside a street or at the corner of a public square is supposed to be accessible enough for the poor and low-maintenance enough to be reactivated by just hanging a simple piece of clothing after no matter how long it has been lying dormant for. At a time when walls are in the spotlight as political tools of exclusion and deprivation, these are walls that bring people closer and provide them with happiness.
Read this article about a similar project from Hamburg, Germany: