This German journal is somewhat of a hidden gem. Articles are increasingly published in English and have abstracts in other languages such as Spanish or French, depending on the country which is the topic of the article. The journal is a valuable resource and fascinating to read for anyone related to the fields of architecture, urban and regional planning, geography, sociology, anthropology, and economics. Dedicated to global issues and development cooperation, TRIALOG assists the assessment of research of relevance as well as the exchange of professional experiences in the fields of planning and building, with a focus on Asia, Africa, and Latin America. TRIALOG understands itself as a magazine for  open, independent and interdisciplinary discussion and the documentation of trend-setting and alternative approaches.
TRIALOG has published field and assessment reports, research work, theoretical essays, conference reports, and reviews of relevant books and magazines continuously since 1987. The magazine, published four times a year, is autonomous in terms of content and financing. Each issue has a thematic focus, but is complemented with noteworthy contributions on other topics.
Have a look at current issues (preview) and scroll through the archive here. You can download PDFs of the older issues for free or order a soft copy or printed version on the website.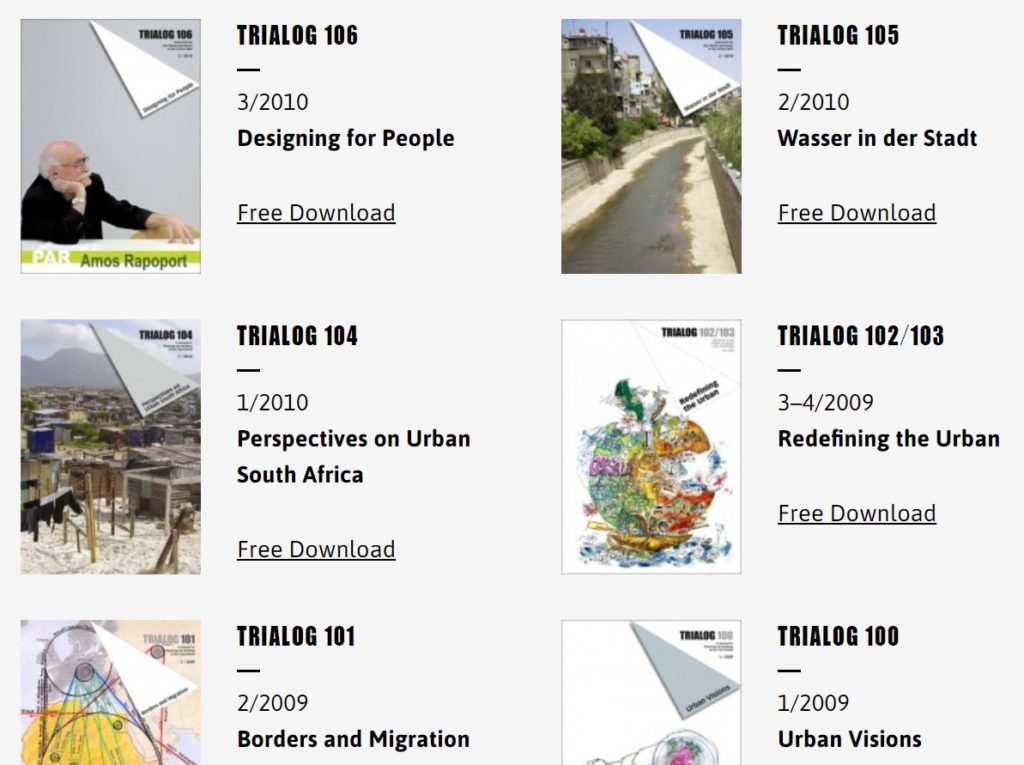 The journal is published by TRIALOG e. V. – Association for Scientific Research into Planning and Building in the Developing World. The editorial work is conducted decentrally and on a voluntarily base by editorial boards appointed on a per-issue basis during the annual meeting of the association. An increasing amount of the articles published in TRIALOG are now being professionally reviewed in an anonymised peer-review process involving a circle of renowned experts for commentary, revision, and evaluation.
TRIALOG is always interested in possible contributions, content-related suggestions and proposals, as well as capable writers and volunteers for the editorial groups. You can also become a member of the association. For further information or to participate, please get in touch with one of the local contact addresses.
I can really recommend making use of this amazing journal and its free resource. Issue no. 134 has an article that I wrote together with architect Hans Harms in it:
TRIALOG 134 – Resilient Urban Development vs. Right to the City