"Ecatepec? No way I am going there!", the Uber driver tells me. Between 1 and 2 million people live in this municipality in the Northeast of Mexico City. Although officially part of Estado de México, Ecatepec is seamlessly connected to Mexico City. When I realised that the colourful cable car cabins I had seen from the highway on my out of the metropolis connect Ecatepec to Mexico City's metro system, I had to go see by myself.
My experience resulted in this article, looking at connectivity for the outskirts of Mexico City and focusing on the cable car service Mexicable. I will evaluate it based on various criteria for an efficient service and also look into how this affects SDG 11 in Mexico City (and surroundings).
Access to the metro system in Mexico City usually means access to much better work. Although the system with its 12 lines is well-connected and integrated with the Bus Rapid Transit System Metrobus, it does not reach the outskirts and the poorer settlements in the North and East of Mexico City. For better connectivity, the Rapid Transit Bus service Mexibús was opened in 2010. It operates exclusively outside the city borders and brings passengers to main end points of Metro Lines.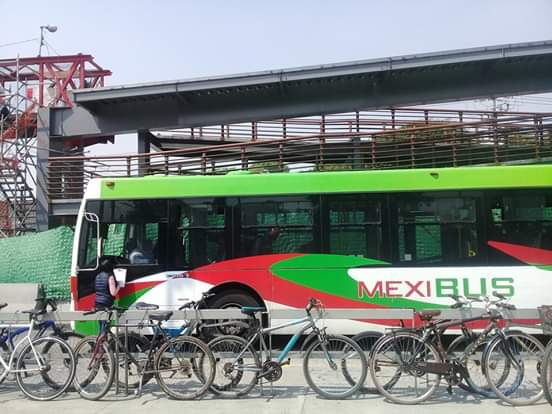 However, if you live somewhere that neither the Metro nor the Mexibús get to, you will likely have to take one or several minibuses or taxis to get access to public transportation. This, in combination with the hilly topography of the city and its surroundings, usually results in travel times of up to three hours (one-way) if you work somewhere in city centre. Time to invest in better transport, according to SDG 11!
Cable cars for better transport options?
For additional solutions, Mexico City and the surrounding Estado de México state have been looking to other Latin American countries. The pioneer in improving accessibility to transport is Medellín, Colombia. Inspired by the cable cars of that city, the idea for the Mexicable was born. In 2016, the country's first cable car designed only for public transport opened.
Mexicable mainly benefits the inhabitants of San Andrés de la Cañada. It bridges 4.9 kilometres and runs through the town of Santa Clara. Importantly, the large Mexico-Pachuca highway is being crossed by Mexicable in the air. Earlier, it was very difficult to cross this crowded road.
Zoom in and out of the map to see city centre, Indios Verdes as the last metro station and the distance to Mexicable as well as its seven stations.
7 modern and clean stations allow Mexicable users to hop on and off wherever it is convenient. A large part of users are school children, who now only need 20 minutes instead of up to 1.5 hours for their way to school.
Street art and beautification is an important feature of the Mexicable. Along the cable car line, you will find as many as 52 works of street art in addition to sculptures.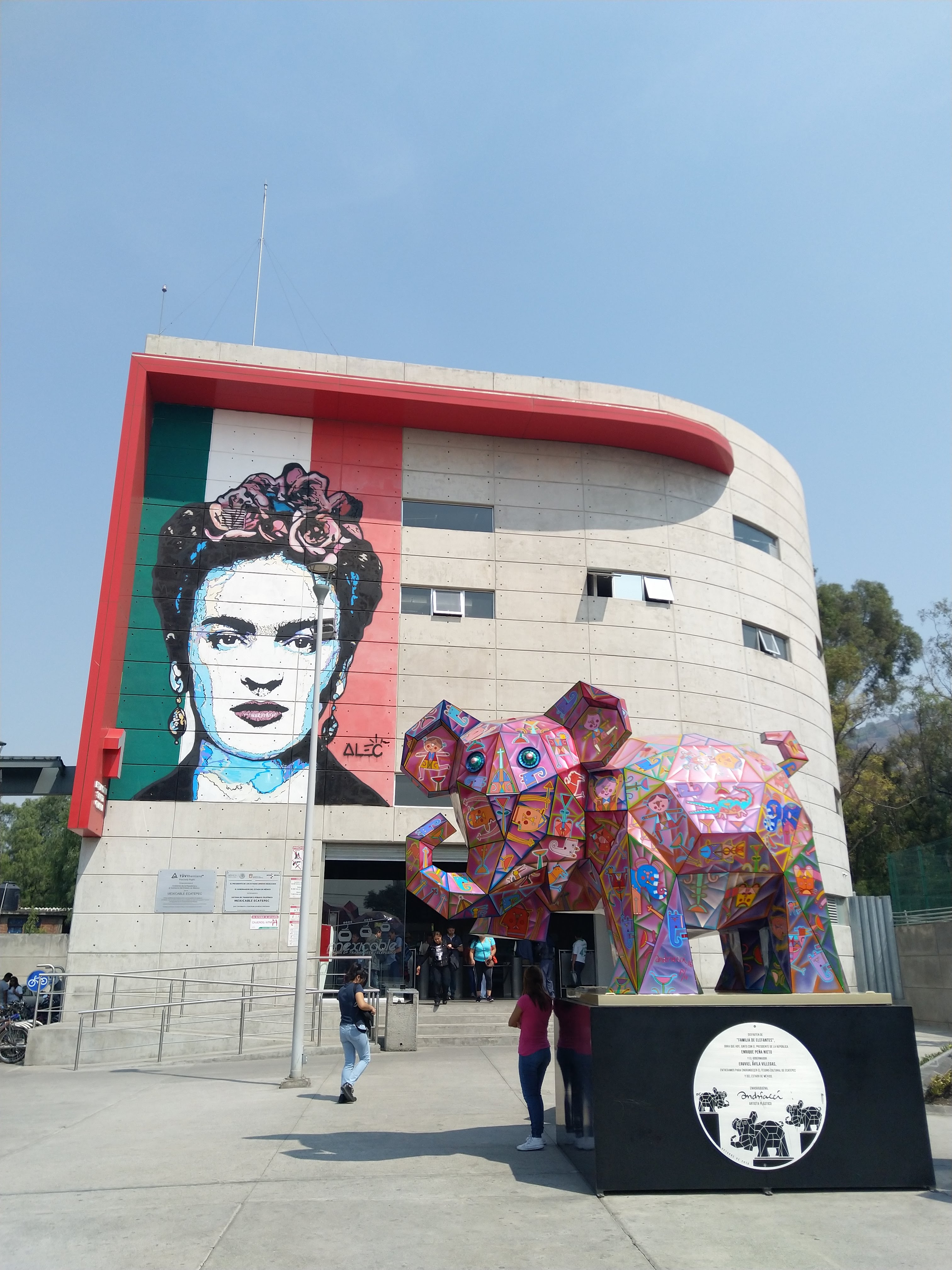 But how does the Mexicable compare to expectations? Let us have a look at different important aspects that a cable car can change in an area, as shown in Medellín and Bogotá.
Reduced travel time
Up to 3,000 users benefit from Mexicable each hour. Instead of travelling for up to 1.5 or even 2 hours on various means of transport and walking long stretches, users now only need 22 minutes for the 5 kilometres that separate San Andrés from the access point to Mexibús. This need is definitely being met by Mexicable.
Improved socio-economic conditions
Supposedly, the construction of a cable car should also bring about investments in the area. However, in the case of Mexicable, some interviews on the ground revealed that this is not the case. For example, the cable car crosses a football field that used to be made up of sand and dirt. For the grand opening of the Mexicable cable car, the company put in artificial grass. In a very Mexican fashion, this patch of green disappeared one day after the ceremony! By now it is back in place, but the little story shows the half-hearted approach to additional investment.
Vendors around the Mexicable say that they have not noticed a big difference in sales because of the cable car. That is probably due to the fact that customers are still the same, they just travel differently.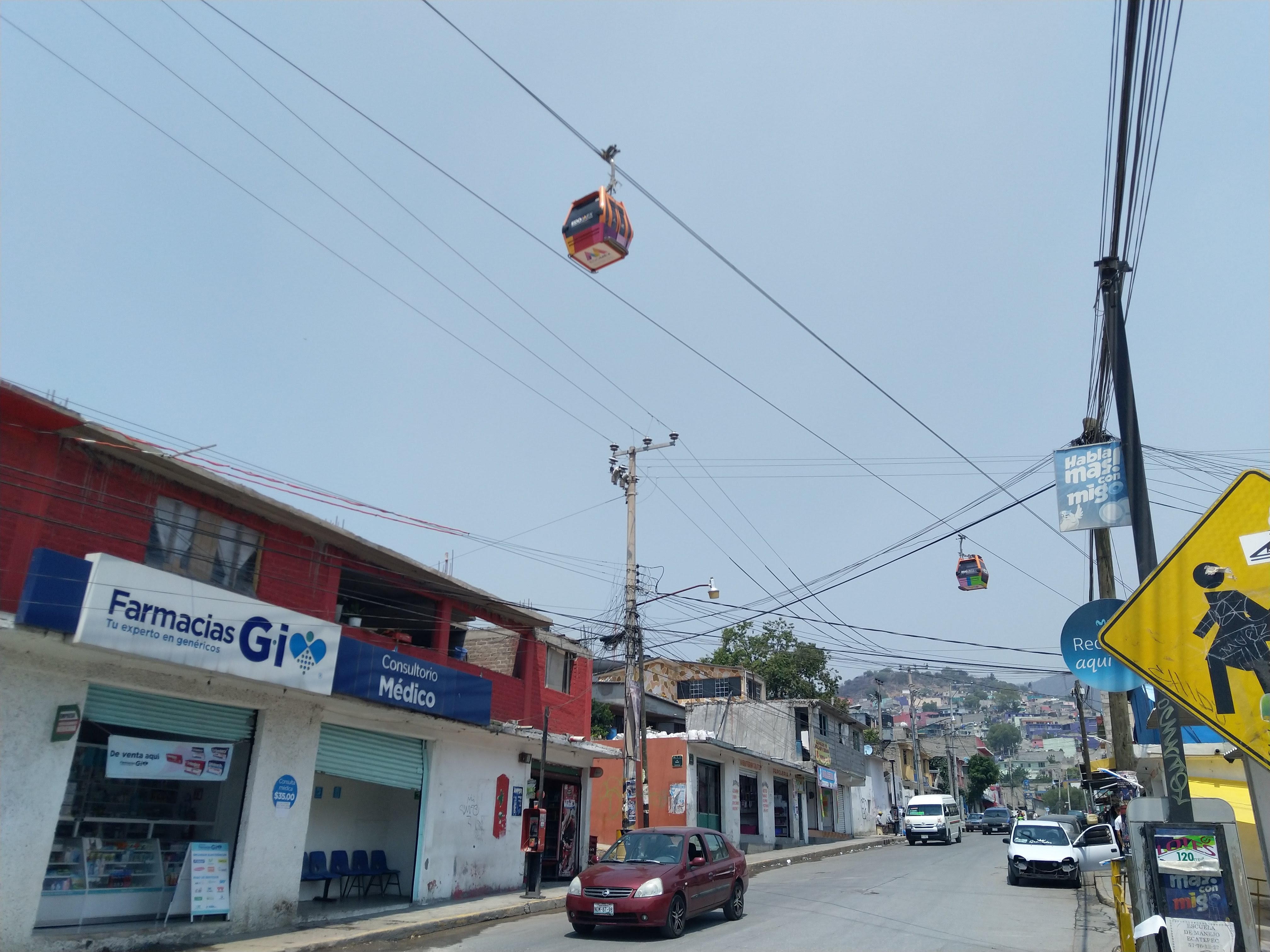 In contrast, in Medellín, the city has heavily invested in schools, public libraries and parks around the cable car lines. This means that residents of poorer areas not only have access to other parts of the city, but also the education in order to find better jobs.
Mexicable is not doing well on that aspect. However, it has created about 200 jobs. Interestingly, the company is all Mexican. Usually, cable car companies are French or German.
Safe use of public transport
Once you are inside the Mexicable or one of its stations, you are safe. However, residents have told me that there are now more pickpockets lurking around the stations of the cable car, waiting for passengers to come out. Armed crime also seems to have risen. Inside the cabins, however, there are security cameras and emergency buttons. There is even WiFi!
Another issue is getting to the cable car. You have to take the metro to Indios Verdes, which is one of Mexico City's busiest and most dangerous metro stations. From there, you have to find the Mexibús for around 20 minutes, which will bring you to the cable car. There is no seamless transition, leaving many vulnerable points.
Earthquakes and power cuts are other eventualities in Mexico City. Both of them affect the cable car, which will stop and leave its passengers hanging – literally. This has already happened a few times, although the issue got resolved quickly every time.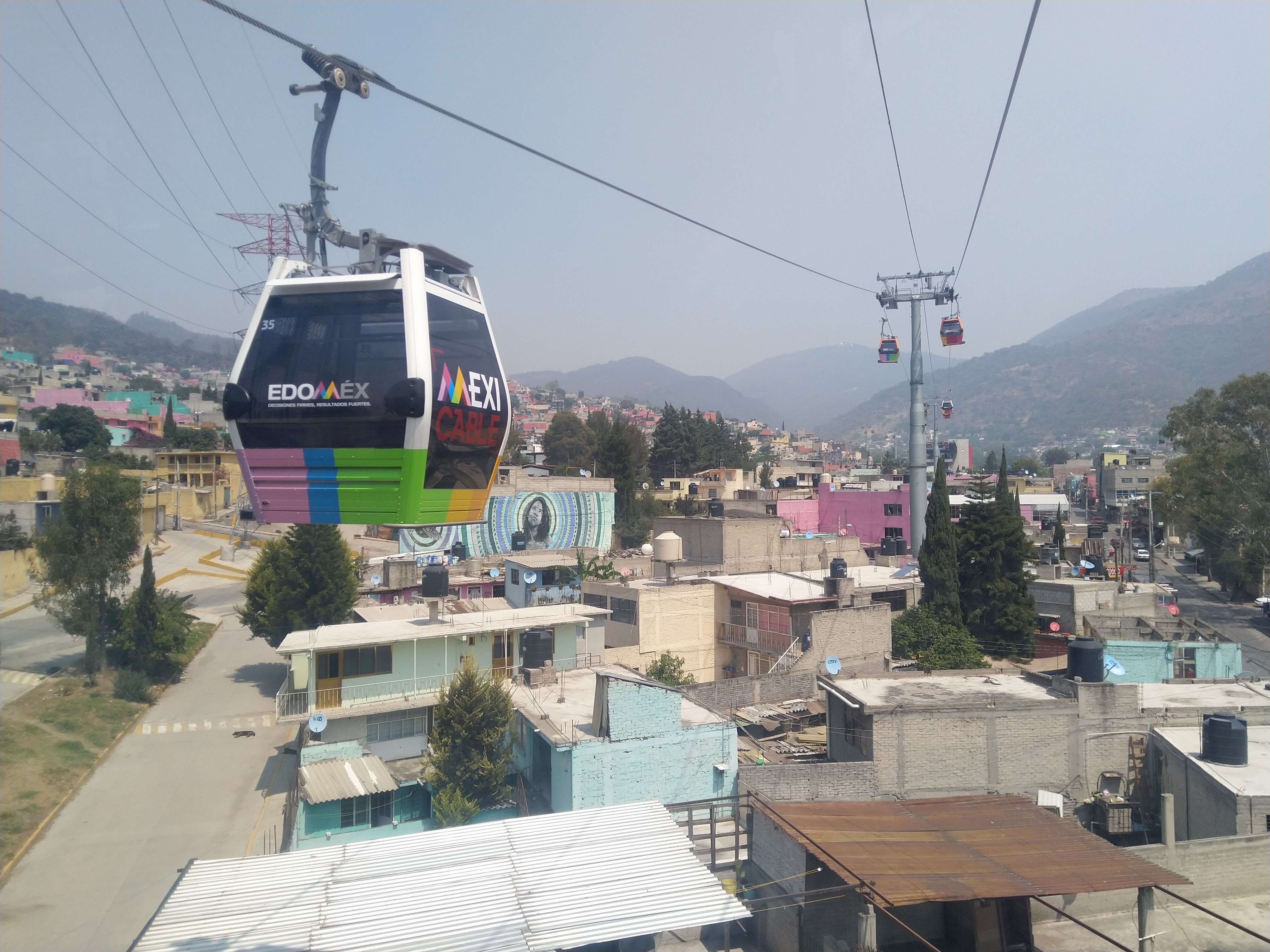 Accessibility
The cost of Mexicable is very accessible: It costs 7 pesos per ride (0.32€ or 0.36 USD). You can use your card to enter the sparkling clean bathrooms for a charge of 5 pesos. If you only take the ride out of interest and do not get out of the last station, you can even go back and forth for the same cost.
Accessibility for wheelchair users, cyclists, pets and people carrying shopping bags is quite good. If you need more time to board the cabins, which even within a station continuously move, the friendly staff will stop the Mexicable for a moment. Outside the stations, there are bike stands for improved cyclist access.
That means that accessibility for less mobile persons as well as in terms of pricing is very good.
Integration with other public transport options
Ideally, a cable car should be as accessible as possible. However, you can only reach Mexicable by exiting the metro system of Mexico City and taking the Mexibús. What no one tells you is that the Mexibús requires a different user card! This is hard to come by in Indios Verdes. You can use the same card for the Mexicable, but it still means you are exiting one transport system and having to enter another.
In my opinion, the lack of integration is the biggest problem of the Mexicable. Of course, we are talking about two different local governments, but considering the transport priorities of the overwhelming majority of people in Ecatepec, they should have enabled a seamless ride.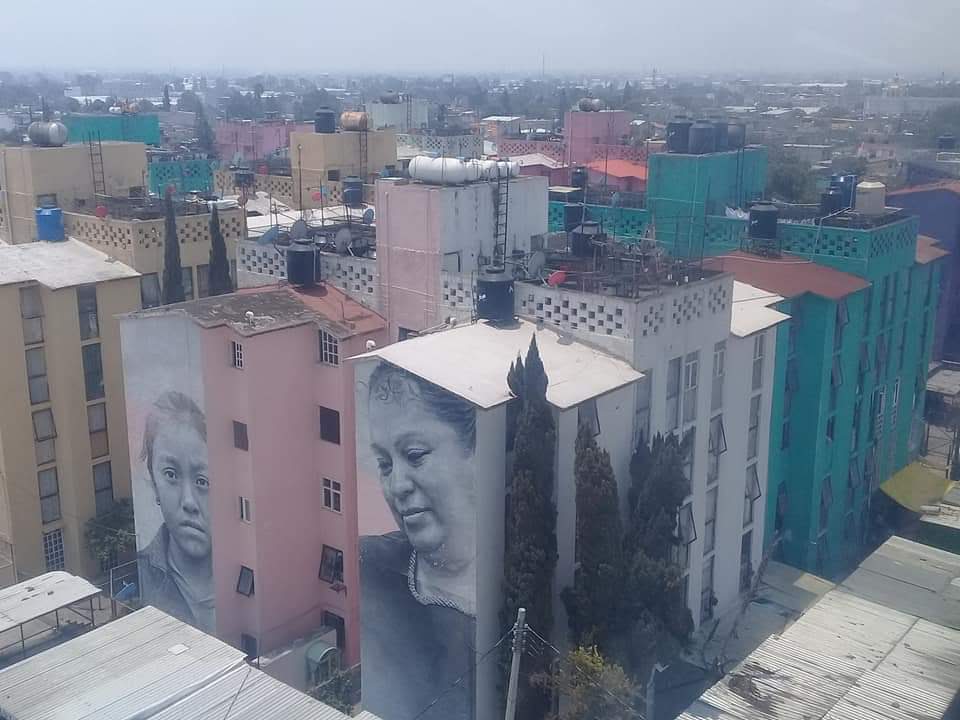 Use of green energy
Here, the Mexico Cable is doing well. It only uses green energy made up of electric energy and solar energy. Every cabin proudly boasts a solar panel. Mexicable itself states that it reduces about 17.000 tons of CO2 emissions per year. Two powerful generators are in place in case of power cuts.
Gentrification of surroundings and touristic value
52 street art works decorate the urban environment thanks to Mexicable. Some of them were done be international artists – although experience from Colombia and Brazil shows that it is more beneficial to incentivise youth of the area to do their own street art or to at least commission national artists. But people in Ecatepec are undeniably proud of this urban beautification.
Gentrification, which can be an important downside of cable car lines (see Comuna 13 in Medellín) due to the influx of tourists, is not happening yet in Ecatepec. There are no tourists in sight and even online, you find very few testimonials by non-Mexicans. What is more, no inhabitant of Mexico City would consider taking the Mexicable, since Ecatepec has such a bad reputation. The fact that it is not easy to reach the first stop of the Mexicable makes it less attractive to tourists.
In a way, this means that this cable car keeps its full capacity for people who really use it. At the same time, it is not always at full capacity. The stops along the line are like villages and if you reach the last station, you almost fancy yourself in one of Mexico's "barrios mágicos". The cute village of San Andrés de la Cañada at the end of the cable car line is quite rural. You can buy a delicious meal for less than USD1 / 1€, explore the narrow streets and overall have a nice experience (and fresh air!) before returning to Mexico City's hustle and bustle.
Participatory planning
It is not clear whether the population had any say in where the Mexicable was going to be built. In order to construct the heavy, large pillars and the stations, surely some houses had to be demolished (and hopefully reconstructed somewhere else). While there is no doubt that the Mexicable line is servicing an area in need of a cable car or other innovative transport solutions, I do not know whether residents got any vote in this project.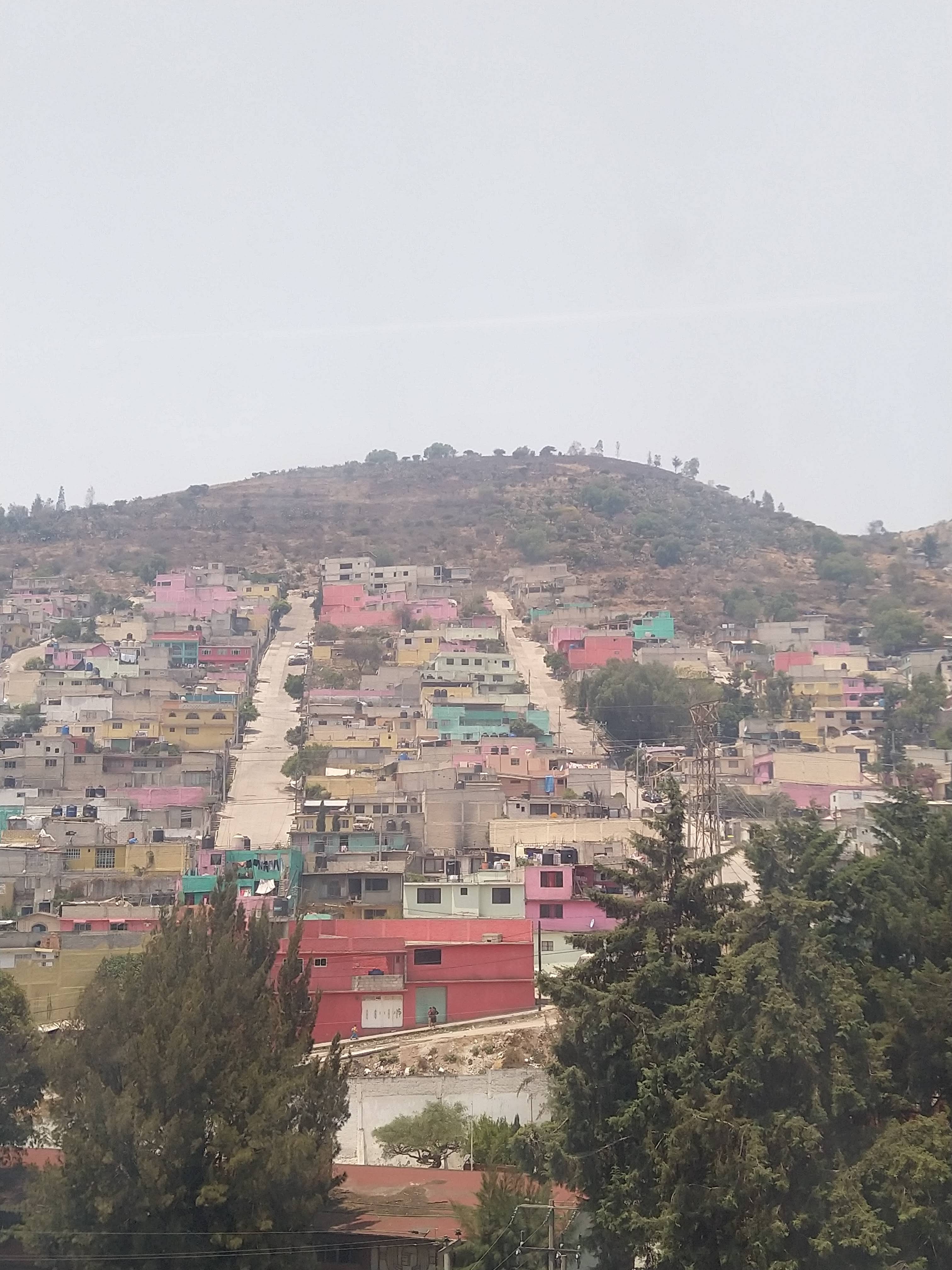 Summary: A good start, but so far not much more than a drop on the hot stone
Whereas integration with the metro system of Mexico City is still not ideal, the Mexicable fares well in terms of green energy, accessibility, reduced travel time, improved mobility and creating at least a few hundred jobs. Large-scale infrastructure investments are still lacking, but Estado de México managed to create a new means of transportation for the population of Ecatepec.
Impressed by the high user rates and reduced travel time, Mexico City has decided to build two similar cable car lines (Cablebus) in the next years within the city.
Considering SDG 11, this investment in transport does tick the boxes of inclusivity, safety, resilience, sustainability and integrated planning. It remains to be seen how participatory and connected to the rest of the transport system the new lines will be and whether Mexico City's government will look into additional investments.
In terms of transport planning, cable cars are very fashionable right now, however, without policy changes (for example, creating better employment opportunities in these areas), the underlying problems remain the same. Ecatepec is still an area being avoided by Uber drivers and almost every inhabitant of Mexico City. In order to change its reputation and its living conditions, investments brought on by political will are necessary.
Thank you to Peter and Lidia from Aztec Explorers for accompanying me to the Mexicable!
Use #sdg11inmexicocity to send me your ideas or pictures of existing innovations in Mexico City that try to accomplish SDG 11! Read more here:
ParCitypatory's Third Birthday: New Article Series on SDG 11 in Mexico City