Sonja de Lugo is a writer and Animal Welfare Advocate. You can see her work at petfriendlyplanning.com.
As an animal welfare advocate, I'm usually referring to dog-friendly amenities when I write about great neighborhoods. You may wonder why, then, I have been invited to weigh in on the topic of urban planning. In fact, dog-friendly amenities are not so different from people-friendly ones. I would go as far as to say that the most vibrant, livable communities for humans are often the most accommodating to dogs as well.
Discussions of placemaking and planning typically center on well-designed and -maintained public spaces, walkability, and access to nature. A thoughtfully designed neighborhood prioritizes the pedestrian experience with wide sidewalks, streetlamps, easy on-foot access to stores and restaurants, and human-scale design. This is the type of area where we tend to see people walking their dogs.
There is an energy in pedestrian-friendly areas such as Chicago's Riverwalk or Sydney's Circular Quay; and among the pedestrians, you will also see happy dogs prancing on the ends of leashes. If the area is truly dog-friendly, there will be water dishes on the doorsteps of shops along the sidewalk, and restaurant patios with pups lounging next to their humans' tables.
Other cities around the world offer tree-lined walking paths through greenbelts or central plazas. For example, many citizens of Hanoi (and their dogs) enjoy strolling the park paths around Hoan Kiem Lake. The park is an inviting oasis in the midst of a bustling, high-traffic area. In Krakow, people and dogs enjoy a bit of nature as they walk through Planty Park, a pretty greenbelt that circles the city's Old Town.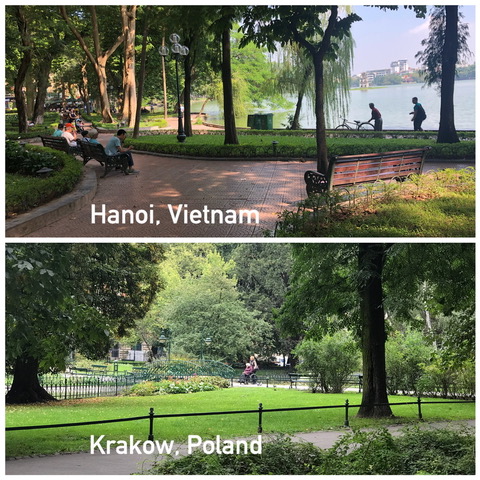 One of the best amenities for pedestrians, in my opinion, is a large urban park. There, you will almost always see people and dogs enjoying the outdoors. When I visited Munich's Englischer Garten, I saw dozens of dogs splashing gleefully in the water or sitting under picnic tables at the biergarten. Here in the U.S., people with and without dogs flock to large public parks like San Diego's Balboa Park, Atlanta's Piedmont Park, and of course, New York's Central Park.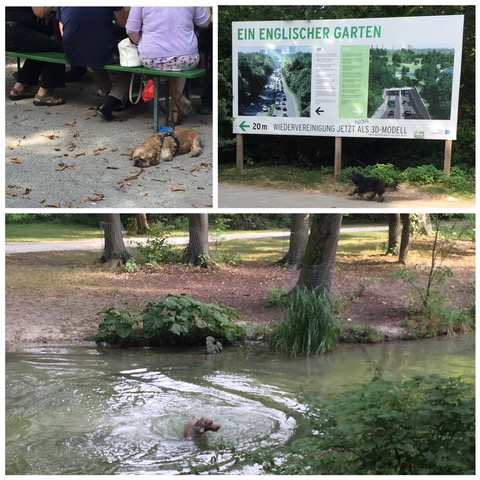 Increasingly, cities are taking the extra step to provide dedicated off-leash dog parks. This movement is not without controversy. Decisions about land use — especially in densely populated areas or in communities with limited resources — are fraught with conflict. Still, more and more households include dogs, and some city planners are trying to analyze and accommodate their needs. For example, officials in Raleigh conducted a detailed study of dog parks in 2018. They determined that the number of dogs in their city will exceed 100,000 by 2023.
With dog-inclusive households on the rise — and with a critical NEED for pet-friendly homes (according to the ASPCA, approximately 1.5 million shelter animals are euthanized in the U.S. each year) — it makes sense to include some consideration of canine needs in neighborhood planning. At the very least, dog owners and non-owners alike benefit when there are waste stations with "poo bags" and receptacles along walkways. And if a park provides water fountains, why not use the type with a dog-friendly basin at the bottom?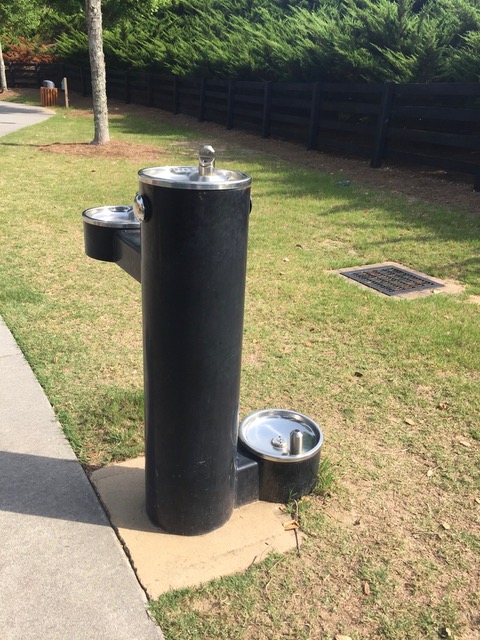 Thriving public spaces affect people's happiness, health, social bonds, and overall well-being. Scientific evidence suggests that pets do too. People with dogs enjoy both physical and mental health benefits, and walking dogs in public can strengthen community bonds. Walkable neighborhoods with wide, well-lit paths and grassy parks with benches are havens for dog-walkers, but they also provide meeting spaces where neighbors can greet each other and chat.
All of these niceties stimulate pedestrian traffic and the sense of community that often ensues. What's more, pet-friendly amenities play an important role in preventing the surrender of healthy dogs to already-crowded shelters. That should warm any dog-loving city planner's heart!