In our December 2020 book club read with the Urbanism Book Club, we enjoyed "Urban Acupuncture" by Curitiba's former mayor, Jaime Lerner. The architect and politician has become one of the main voices advocating for "pinpricks" of urban change that, according to him, can heal whole districts or even cities. Similar to the Chinese approach of acupuncture, urban acupuncture is supposed to be almost like a medicine that through targeted interventions can heal a whole organism.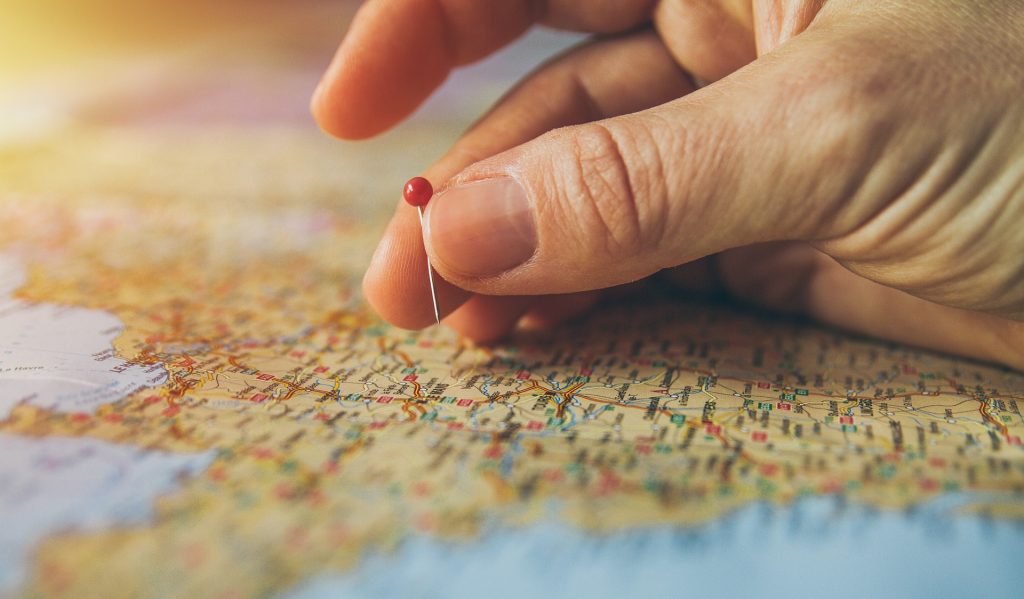 In his book, Lerner gives examples of Urban Acupuncture from all over the world. Recreating old riverbeds, re-instituting community centres and cinemas, establishing pop-up cafés or even putting up nostalgic Christmas lights in a city centre are some of the pinpricks that he recommends to cities.
Lerner explains the concept of urban acupuncture as follows:
"Just as good medicine depends on the interaction between doctor and patient, successful urban planning involves triggering healthy responses within the city, probing here and there to stimulate improvements and positive chain reactions. Intervention is all about revitalization, an indispensable way of making an organism function and change."

Jaimer Lerner, "Urban Acupuncture", p.1
According to Lerner, urban acupuncture consists of a series of small-scale and highly focused interventions with the capacity to begin regeneration processes in dead or damaged spaces and in their surroundings. He sees cities as an integration of many functions, which is why we need meeting places and lively, attractive public spaces. These can add to missing urban functions.
In his book, Jaime Lerner suggest Urban Acupuncture through these and other methods:
Music and other sounds (or silence)
Scents
Colours
Lights
Water
Smart transport
Landmarks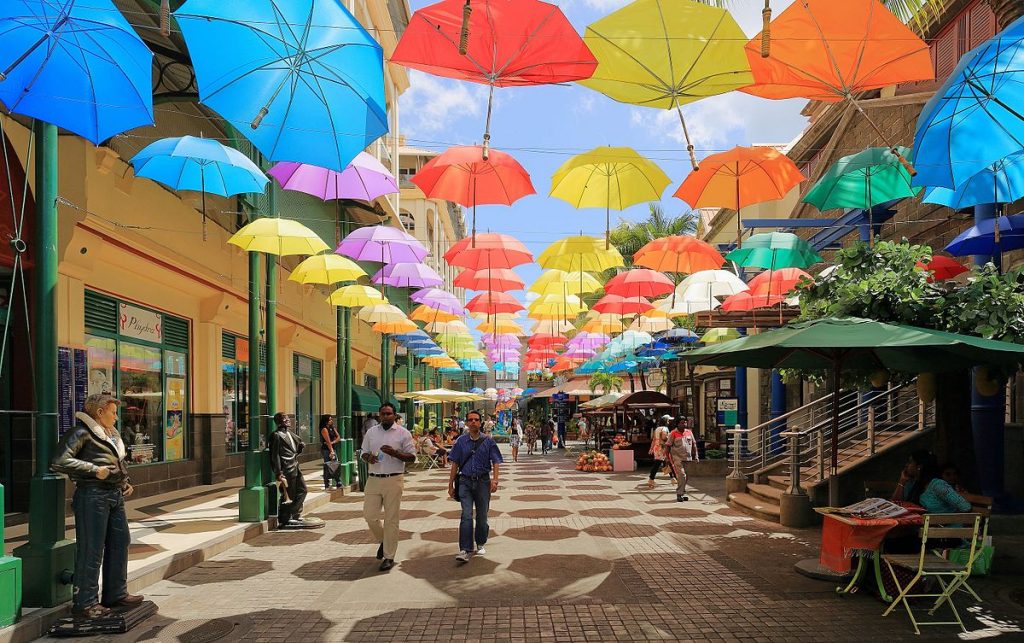 The participatory potential of urban acupuncture
But who are the acupuncturists? According to Lerner, you don't have to have a thorough education in the art of urban acupuncture to practice it. Rather, his book encourages all of us to step outside our doors and start looking for the dead spaces and less than lively places that could use a "needle" of urban intervention.
This localised community approach to urban renewal, as established by Finnish architect Marco Casagrande (the father of Urban Acupuncture), allows for a lot of creativity and freedom of ideas. In Urban Acupuncture, citizens are enabled and encouraged to join the creative participatory planning process and to develop their environment according to their preferences. Therefore, this concept is closely related to the Right to the City. It offers a great way of participating in the city.
While Jaime Lerner is a bit vague on how to start implementing urban acupuncture, there are still a lot of things you can do. They might not always be known as Acupuncture, but their function is often the same. Be it the creation of a community garden, the networking with neighbours, opening your porch to passers-by or painting a sign for your pedestrianised street, you have many low-threshold options for creating your own pinpricks of change.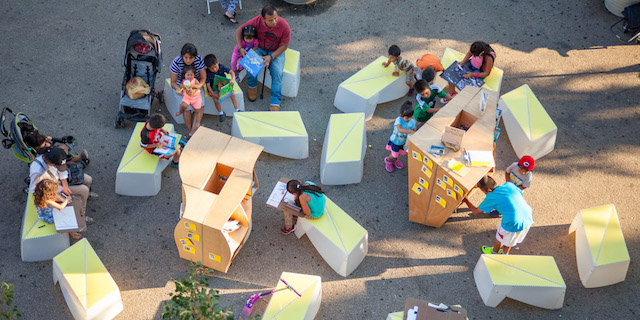 Differences between Urban Acupuncture and Tactical Urbanism
Many elements of Urban Acupuncture are related to Tactical Urbanism. Both use small interventions and changes to improve the city, boost community morale and catalyse the revitalisation of cities. However, in Urban Acupuncture, interventions are even smaller and subtler than in Tactical Urbanism. They are usually not funded by local governments and they do not always have a long-term goal – the tactics are missing. Rather, the pinpricks of urban change aim to alleviate stress and provide a continuity to the liveable urban environment. Additionally, Urban Acupuncture often unlocks creativity.
Jaime Lerner has said in interviews that in Urban Acupuncture, the results do not need to be measurable. The inspiring and heart-warming stories in his book show, that Jaime Lerner – similar to Jane Jacobs, appears to have a instinct for what makes a city great and unique. I particularly enjoyed his suggestion of drawing an intuitive map and listing favourite places in each city we visit, thus creating our own guide.
Urban Acupuncture in the Long-Term
While Urban Acupuncture itself is more like a medicine than a holistic cure to the issues that ail city, the fact that it helps to reclaim ownership of public spaces can make for important long-term changes. Also, the revitalisation of lots, places and spaces can quickly lead to positive effects for the whole city. Involvement of the public on different levels is key in this type of micro urbanism.
There is a danger that Urban Acupuncture is used as token participation or as a band-aid that does not really heal, but covers up issues instead. This meme exemplifies the dangers of small-scale interventions: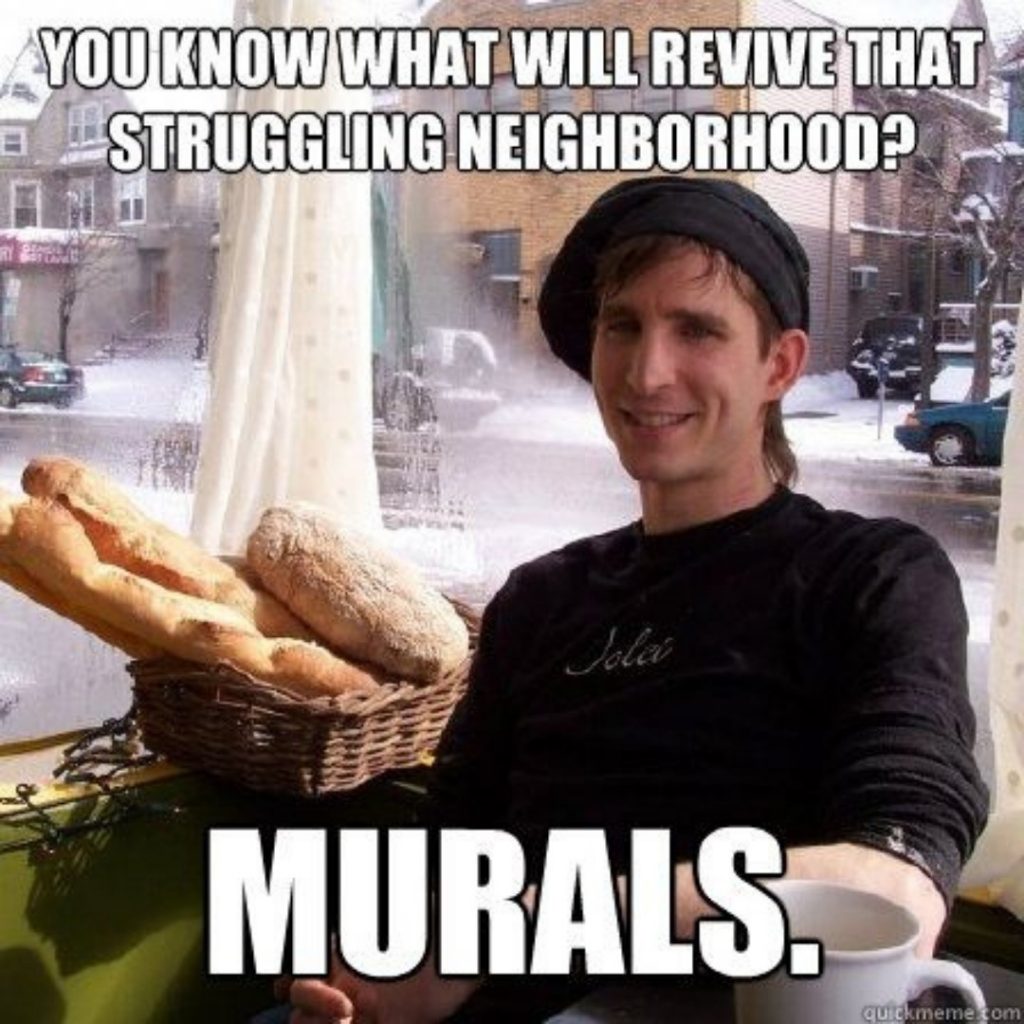 However, reading "Urban Acupuncture" by Jaime Lerner will certainly leave you with many ideas and a positive, optimistic outlook on our urban future. It might not always be possible to change a city, but it is possible to start with a small idea that can relieve stress in the built environment. Considering that countless cities (and citizens) struggle with limited budgets and resources, a pinpointed approach to urban interventions offers an interesting solution that is cheaper and more democratic than many other options. Urban Acupuncture is no magic way to heal the city, but it is a good start to healing citizens and revitalising cities.
Read more about Urban Acupuncture here:
https://nextcity.org/daily/entry/healing-cities-urban-acupuncture-curitiba-mayor-jaime-lerner