"Tactical urbanism" is a popular buzzword among urban planners. But what does it mean? According to Mike Lydon, public space expert at Street Plans, tactical urbanism is short-term action for a long-term change. A good example for that are the popular pop-up bike lanes coming up in many cities during the Covid-19 pandemic in 2020. They are cheap, simple and short-term solutions, but there is a tactic behind them. They are intended for a deeper change, such as more safety and space for cyclists.
Due to key trends in urbanism over the last decades, we are currently evolving towards a more human-centred idea of urban planning. Copenhagen's star planner Jan Gehl is a great example of how to create cities for people, not for cars. Environmentalism, the sharing economy, and sustainability as well as the development of technologies are other trends that enable change in urban planning. A shift in demographics and even an economic recession are opportunities for tactical urbanism – and the good news is that anyone can participate in it!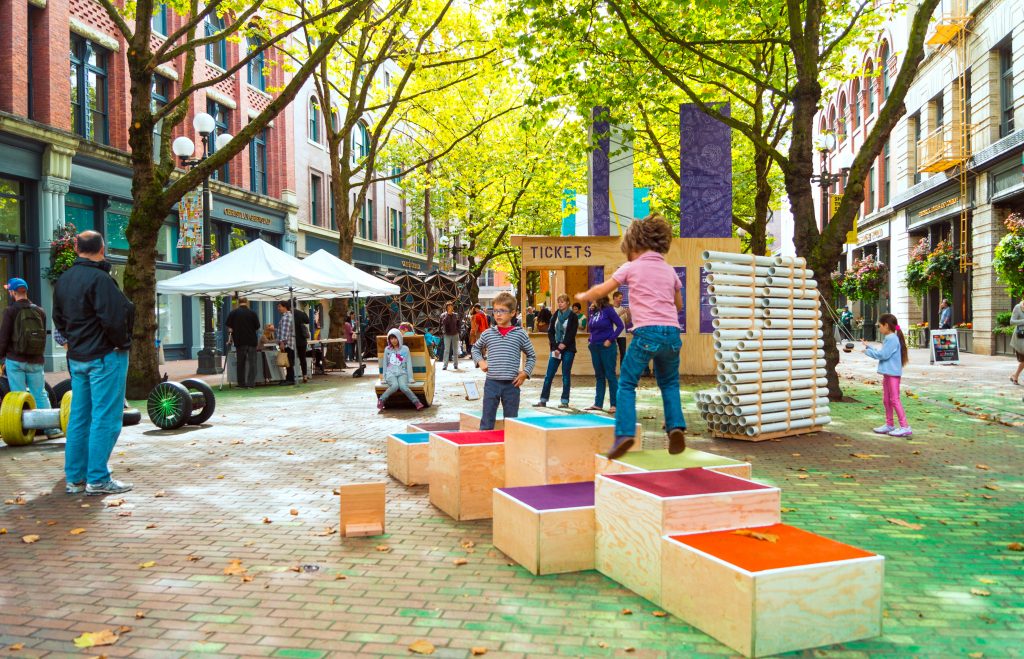 The Definition of Tactical Urbanism
Tactical urbanism can be defined as "a city and citizen-led approach to neighbourhood building using short-term, low-cost, and scalable interventions intended to create long-term change". Actions can be classified as tactical when they have a vision, a local context, a short-term commitment, a low-risk and high-reward value and the support of a community. Ideally, they even develop social capital by bringing neighbours together. In the long term, pop-up interventions are intended to get an official sanctioning or create change.
For example, the "yarning" of trees or bikes cannot be considered as tactical urbanism. It is certainly pretty, but there is no long-term intent and no larger strategy. On the other hand, parklets, play streets and even street art are often elements of tactical urbanism. They act as disruptions to everyday life in a city. Ideally, they can incrementally be grown or acted upon.
This is a great example of tactical urbanism which has been replicated in many cities:
By creating more space for cyclists and pedestrians, the street becomes people-friendly. The colourful paint also serves to revive a formerly drab street.
Placemaking as Tactical Urbanism
Inexpensive "hacks" often go by other names than Tactical Urbanism, which is very much a planner-word. You might hear these labels:
Bottom-up action
Pop-up activities
DIY
Placemaking
Guerrilla
As long as the interventions respond to local challenges and try to get more one with less, they probably fall under the umbrella of Tactical Urbanism. Ideally, activities are measurable (i.e. by how many visitors a pop-up stand had in a day) so that you can measure success and use this data as leverage. In a next step, it is important to think about the lessons learned from the Tactical Urbanism intervention and integrate the findings into a more permanent change.
We need to understand that Tactical Urbanism is not just a millennial movement that has come up recently. In fact, pocket parks, food trucks and many other forms of it have been around for centuries. Often, the tactics used are unsanctioned. Experience has shown that if you manage to combine unsanctioned strategies with official strategies, you can create a very powerful project.
For example, seed bombing and urban gardening often starts as an unsanctioned "guerrilla" project and is then so popular and well-received that it becomes sanctioned by those in power.
What can I do to participate in tactical urbanism?
If you like the idea of Tactical Urbanism in its many forms, there are countless actions you can take to improve your city or town. First of all, do a quick social media and newspaper search to now what is already going on. Parklets and play streets are among the most common initiatives, but any of these terms might also help your search: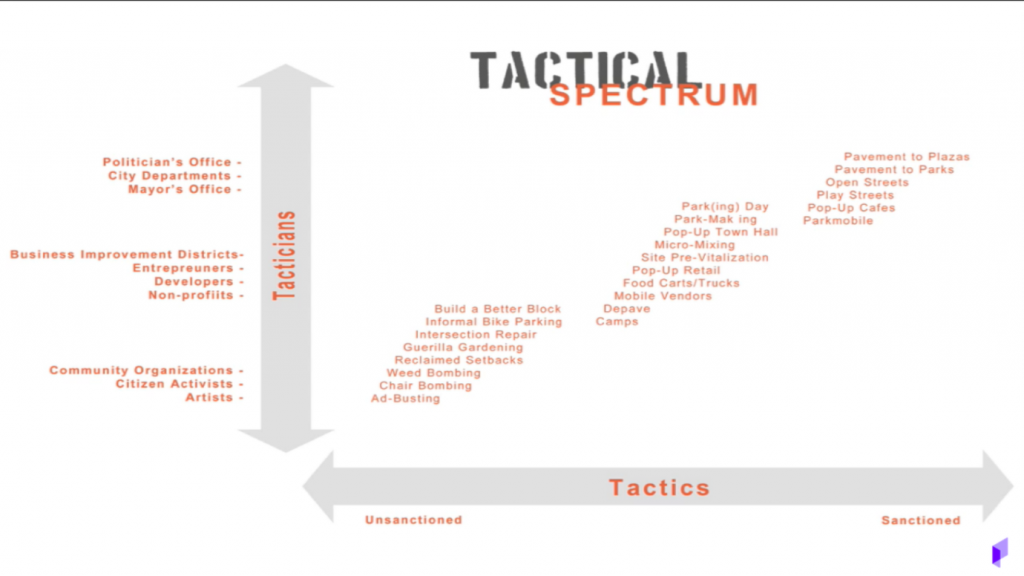 This graphic from Planetizen shows the spectrum of tactical urbanism. While some actions like guerilla gardening or chair bombing are not exactly sanctioned, they can turn into government-approved and supported initiatives such as "pavement to plazas". You should also consider who the tacticians at play are and how you might want to interact with them.
What should I keep in mind?
An important lesson from tactical urbanism is that it cannot simply be applied anywhere. It works best in neighbourhoods with "good bones" where people really love their city and want to engage with it. Keep in mind, though, that many urban dwellers feel relatively neutral or at the most curious about their city. They might not want to take creative action.
If you are interested in started a or participating in a tactical urbanism project, these recommendations might be helpful:
Feel free to imitate successful activities from other urbanists or community groups
Think through the potential consequences of your interventions
Start with a low-cost, low-time and DIY interventions and see how it goes, without losing sight of your long-term goal
Rely on simple projects that are compatible with the surroundings
Ideally, your intervention can be tested and observed so that you can provide city government with data like "100 people used this parklet in a day"
Brainstorm with your team or neighbours on how to activate the space you are providing, for example through events, classes, food sales, chalkboards etc., in order to create a dialogue
Include social and traditional media by inviting them to report about your intervention
Try to engage the local government, private companies, local artists, business improvement districts and other important urban stakeholders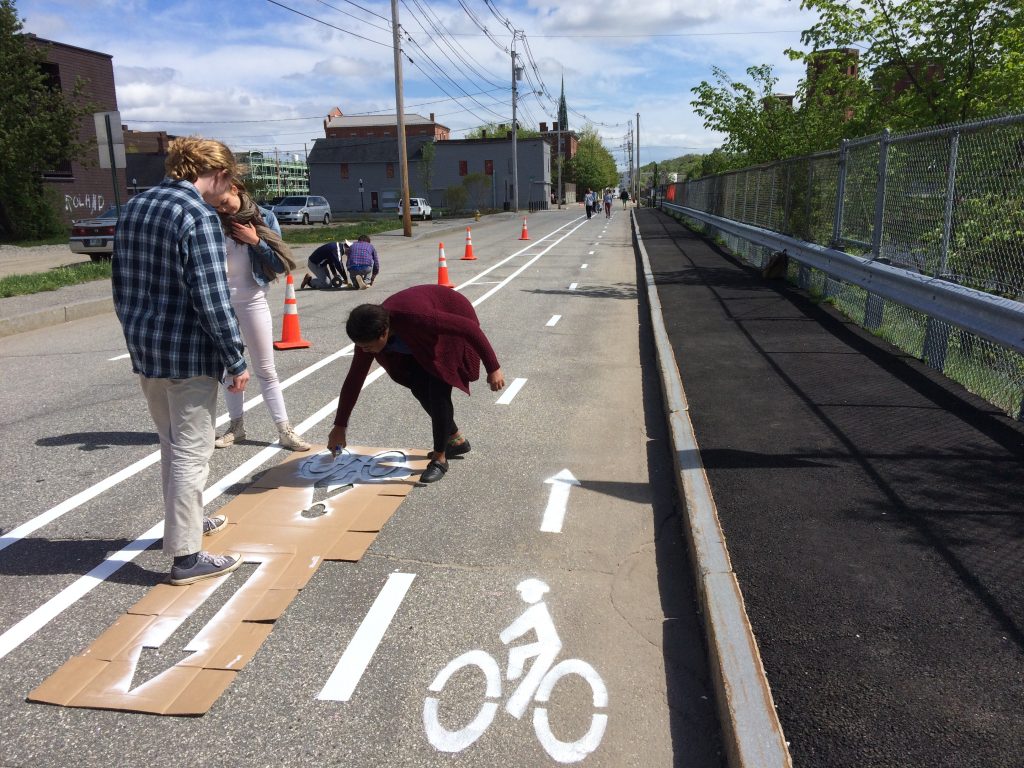 While tactical urbanism is sometimes criticised for inviting gentrification and tourism, most of these interventions are designed to serve residents and to make the city better for everyone. If you are interested in "doing" tactical urbanism, you should take some time to set up a plan, analyse risks and opportunities and get some partners on board. By working with residents and cross-sector stakeholders, you can create long-lasting change in your neighbourhood.
Here are some resources to further inspire you to participate in tactical urbanism activities:
Charles Montgomery, "Happy City: Transforming Our Lives Through Urban Design"