I am a big fan of free online courses (Massive Open Online Courses, MOOCs). One of the biggest platforms offering these university-level classes is Coursera. Today, I would like to recommend my favourite class, although the other classes on just about any topic you can imagine are in most cases great as well (sometimes they can be too theoretical). It's called Villes Africaines and deals with Urban Planning especially in African Cities: Link to the course.
Villes Africaines is an online offer by the École Polytechnique Fédéral in Lausanne. The course is in French but has English subtitles. It is possible to hand in assignments in English, to watch the videos with subtitles and to finish the class without speaking a word of French, although that helps of course. The course runs for 12 weeks, but you can also finish it earlier or go through the material when it is not running currently. Each week, there are some videos, a bit of reading material, discussion questions posted in the forums and a multiple choice quiz to test your understanding of the material covered. In the end you have to hand in an assignment for peer review. It is possible to get a free official certificate.
I went back through my notes from when I took the class and would like to share some points that struck me most.
Smaller African cities with less than 500,000 inhabitants are home to 57% of Africa's urban populations. Cities with 1-5 million people constitute 26% of the continent's urban population and are the fastest-growing cities in Africa.
While it is difficult to generalise African cities, they can be divided into spatial categories:
• Very old North-African or Arab cities, founded before colonialism started (e.g. Cairo or Casablanca)
• Cities in the Gulf of Guinea (Western Africa), the most inhabited cities in Africa
• South-African cities with high density with Dutch or English origins
• Growing East African cities such as Addis Ababa
Also, most African cities have to deal with migration, informality (both in labour and in housing), a multitude of actors, extremely fast growth and the legacies of Colonialism, such as a divided city or a city centre designed only for the rich.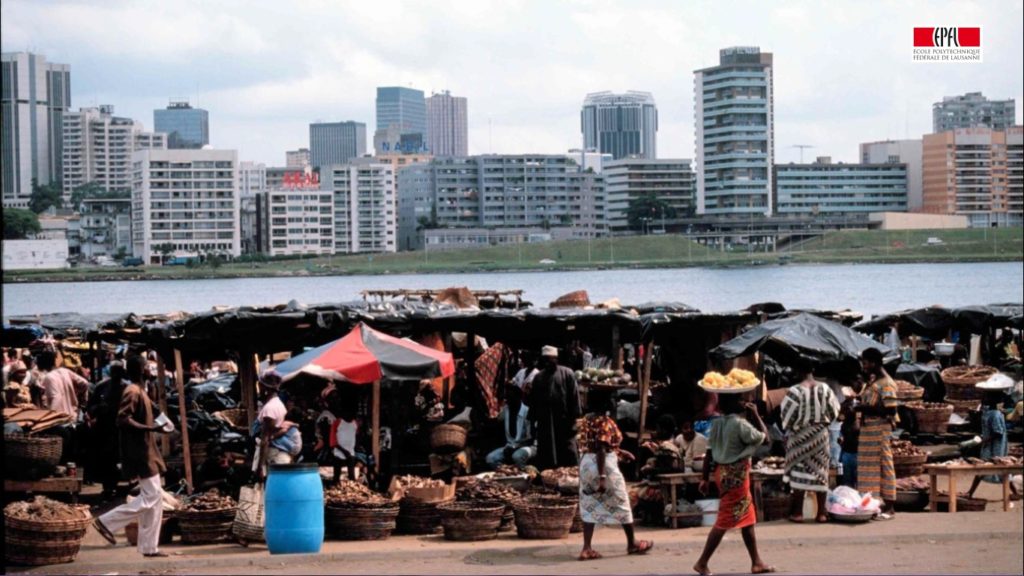 This separation of many African cities came up again and again since it accounts for many additional issues, such as urban sprawl. Urban sprawl describes the phenomenon of a city growing neither in density nor in height but simply in size. The outskirts are spreading further and further away from the city centre (often, these are informal settlements or "slums"), which also has negative impacts on mobility. The way to work often becomes too far when you live on the very outskirts of a city and you are dependent on public transportation. However, a poor city cannot afford public transportation and similarly, a poor inhabitant cannot afford public transportation to get to work.
Here is an overview of how people in different African cities get to work: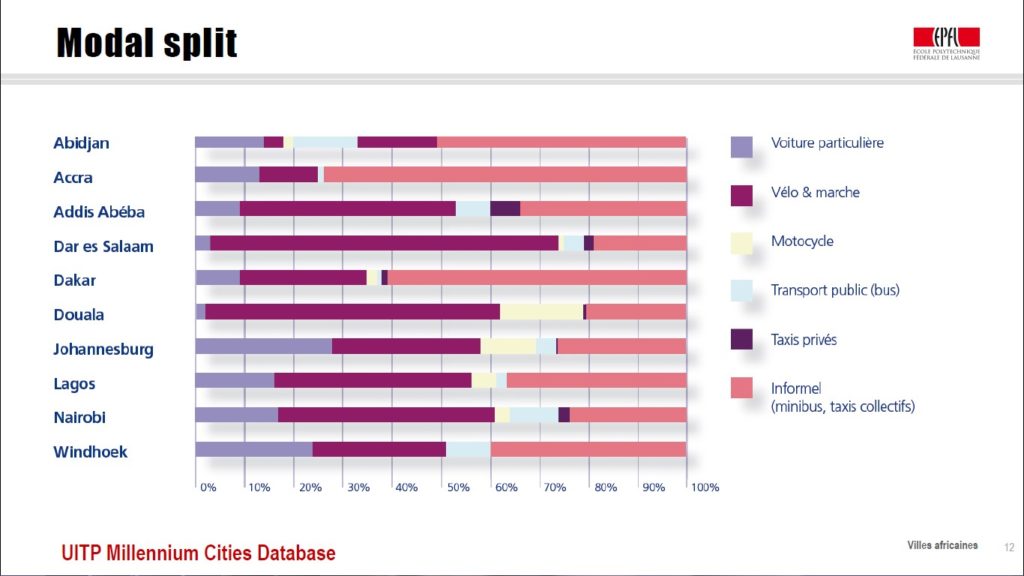 Voiture particulière = individual car
Vélo & marche = bike or walking
Another expression that also stayed with me since taking this MOOC was "reading the different images of a city" – understanding a city through its various imagery. This can be an aerial view, the Street View of Google Maps, old city maps or eye-level pictures of the city. One interesting experiment is to spend one day sitting in the same spot (or having a camera installed there), taking a picture once every 15 or so minutes. The picture analysis will help you in understanding traffic flows, markets, people movements and can even tell you gender differences, i.e. when do women feel safe to go outside etc.
Some other great MOOCs I would like to recommend are:
• Community Change in Public Health
• Designing Cities
• Engaging Citizens – A Game Changer for Development?
• Smart Cities
• What works: Promising Practices in International Development
What's really great about MOOCs is the opportunity to start learning for free more about a new field or to deepen your knowledge at university level but at your own pace and convenience. Try it out and let me know what you think!
Header copyright: Coursera 2016 (www.coursera.org)