Civic spaces act as spaces of aggregation, social welfare and knowledge exchange, filling the gaps left behind from the withdrawal of public services and the commercialisation of urban culture beyond their size (p. 7).
In their very helpful book 'Funding the Cooperative City – Community Finance and the Economy of Civic Spaces', Daniela Patti and Levente Polyak from The Eutropian give a lot of insights into how citizens can access power in order to improve their city. This book is a creative commons, so you can navigate to this website and download it for free!
In it, you will find information and inspiration on how to access capitals from different sources such as crowd-funding and ethical banks (first part). Secondly, you will learn how to organise communities and thirdly, there are many examples of how to work with institutions rather than against them. 'Funding the Cooperative City' celebrates citizens' initiatives all over Europe and shows you how to learn from them. In an interview style, most of the authors are being questioned on how they raise funds for their amazing urban projects. In a comprehensive conclusion, the different regions of Europe are being compared and the constantly evolving landscape of civic spaces and their organisation across Europe is being presented, resulting in a list of recommendations for different actors, from the European Union all the way down to citizens. A glossary at the end of the book serves as an additional resource.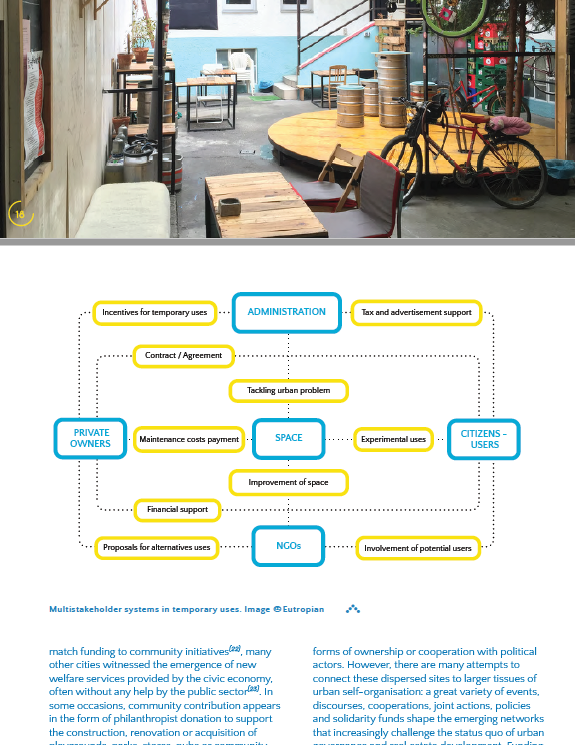 I liked the fact that the author of each chapter got introduced. On 248 pages, countless examples as well as some theoretical background make this book a very interesting read and I would even say it is essential for any (and not just European) community organisation. It is also designed very nicely and has many pictures, drawings and quotes to inspire you. The only criticism I have is that it can be hard to read the book on a screen because it is set up in two columns on every page, which forces you to scroll up and down a lot. But you can also see most of the examples on the website of The Eutropian – go ahead and subscribe to their newsletter as well, it is full of innovative ideas and I always look forward to reading it!
Header Copyright: The Cooperative City